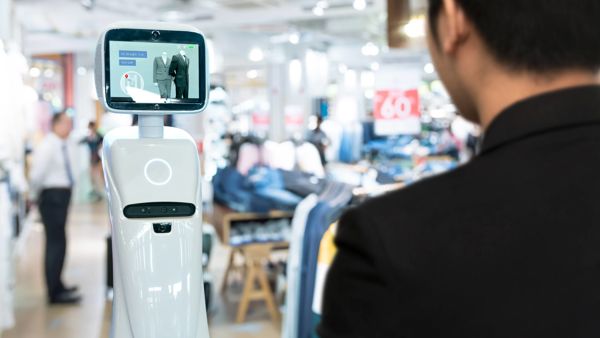 Metaverse: the new retail trend you can't afford to miss
In the past, we bought stuff exclusively in-store. Now, we spend online. And tomorrow, we will shop in the metaverse. At least that is what the huge investments that are pouring into this technology promise. It is therefore crucial to catch this tech wave before it crushes your business.
Remember the days when the Internet offered retail massive opportunities, but no one knew exactly how yet? This is somewhat the case with the metaverse. Ever played Sims? Or seen the movie Ready Player One? Then you know what the metaverse is. Well almost. The reality is no one quite knows yet: it is a computer-generated universe under construction. It is an immersive virtual world made with virtual reality (VR) and augmented reality (AR), which you tap into via a computer, smartphone or VR glasses. You can buy digital and physical stuff and billions are invested in it by tech companies and retailers alike.
Metaverse the trillion-dollar promise
The expectations of this new market are enormous, just like the internet it will touch every sector. It has a market opportunity worth more than $1 trillion in annual revenues, according to JP Morgan. Fortnite maker Epic raised $2 billion for a kid-friendly metaverse. And the US market for digital gaming clothing is 40 billion dollars. As you can see this is no child's play. Meta spends $10 billion a year on the metaverse. We see that consumers are starting to view virtual items on a similar level as physical and real goods. Nike now sells virtual sneakers. Gucci sold a digital bag for more than one of their physical ones. Zara and H&M are already active in their metaverse and Walmart is also about to sell NFTs via crypto currency. 
Be inspired and experiment
The promises of the metaverse are high and, of course, as a retailer you don't want to be late to the show. But how will you be on time with the right physical and digital mix to create a sensory and emotional experience your customer wants? It's all about experimenting and seeing which initiatives in the market are successful. All kinds of brands in consumer sectors are experimenting with using virtual spaces to showcase their products. So, you need to be able to use any device or headset to access your virtual store. In this virtual world, consumers and employees feel like they are interacting in the same space.  
You need data and technology
It's all about personal experiences. Would you like your customer to ride a motorcycle through his favourite landscape, dressed in his favourite clothes? Then you need to know your customer, and that requires data. More specifically you need to have the right data and be able to bring it together easily, a process that requires the right technology. Our advice?  You better migrate quickly to the cloud! There you'll find AI, VR and IoT and many other technologies that will help to create an immersive experience, online and in your physical store.
Transforming your store
Take for example Dynamics 365 Connected Spaces. This brings computer vision and AI together to transform your retail store experience. It offers real-time actionable recommendations. Is a waiting line too long? Then a signal rings to open a new checkout. Or track your shoppers and check how effectively your in-store promotions and displays are working. This tool can help to collect, organise and analyse data. With the results you can implement changes that will enhance the customer experience and your sales. 
Metaverse reshapes the future of work
Don't you also want to collaborate more personally online? That too is possible in the metaverse. Microsoft Mesh combines virtual reality, augmented reality and Microsoft Teams in one package. Interactive spaces create cohesion and reinforce a  common purpose. Brainstorming is easier and stand-up digital calls become real, resulting in more physical stand-up meetings. It is also useful for training and mentoring purposes. These In these worlds we can learn together anywhere thanks to holoportation, holographic sharing and visualisation.
Get ready for the future of retailing
Want to build loyalty from tomorrow's customers? Welcome the customer of tomorrow by building experiences they want to come back for more. Look around you and get informed about all the possibilities that technology now offers to make your store stand out. Whether that store is in the street, on the Internet or in a difficult-to-define place. Want to know more? Then contact us below for a no obligation chat.