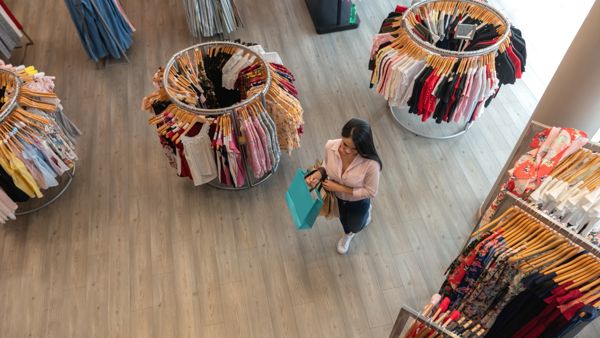 How in-store automation can transform the retail experience
In-Store Automation – The key to competitive differentiation
Today's retailers are placing an increasing focus on in-store automation. Where bricks-and-mortar stores are having to reinvent themselves to survive amidst a thriving online landscape, in-store automation has the power to entice new customers and keep old customers returning. By enhancing shopper convenience, it enables businesses to differentiate themselves and deliver a seamless omnichannel experience. For any brand navigating the current UK retail apocalypse, being able to provide an exceptional customer experience is the difference between store closures and success.
Using technology to increase customer convenience
When it comes to improving customer experience, savvy brands are getting ahead of the curve and investing in automation technology to solve in-store issues; particularly those centred around time and convenience. In the eyes of the customer, retailers that deliver a high quality, convenient experience leave a lasting impression and this is what differentiates one brand from another.
Augmented reality (AR) is being utilised to superimpose digitally generated images over real-life view. Furnishing giant IKEA uses AR in this way, enabling its customers to use their smartphones or tablets to see what furniture looks like in their home. This removes the time and effort needed to visit a store, queue to pay and arrange for delivery – amongst a whole host of tasks required for in-store shopping.
Fast fashion gets even faster
Trying on clothes can be an arduous task. To alleviate this, many stores now offer 'magic mirror' and AR technology in dressing rooms, allowing shoppers to try before they buy. Earlier this year, fashion brand Mango's new Westfield London store teamed up with Vodafone to roll out new smart mirrors in their fitting rooms. Shoppers can now digitally visualise what outfits will look like on – again saving the time needed to physically change.
Along with magic mirrors, self-checkouts have been around for a few years. In a bid to make "fast fashion" even faster, wireless technology has been added to the equation, that removes the need to scan items. In addition to regular cashier desks, some Zara stores offer a self-service checkout area that automatically identifies items being purchased. Customers simply confirm items using the touchscreen before paying via card or mobile phone, to complete the transaction.
Reducing out of stock instances with Smart Shelves
Another common shopper pain point is dissatisfaction due to out of stock items. In answer to this, Sunglass Hut and fragrance maker Jo Malone are investing in smart shelves that use laser and motion sensors to detect when a product is picked up. Using real-time data, the retailers are able to monitor stock levels and receive automated alerts when levels drop – reducing out of stock incidents and creating a more seamless experience for customers. Jo Malone also has the ability to personalise the customer experience; when a shopper picks up a product, they are shown an interactive display offering a complementary fragrance.
The Importance of Personalisation
With the advent of so much new technology, it is essential to remember the importance of the human touch. While fast fashion retailers, in particular, are focusing efforts on speeding things up even more, automation can also be leveraged to further personalise and enhance the in-store experience. Rather using technology to reduce staff numbers, retailers can alter the role of staff. Automating manual and mundane tasks can free up staff time to focus on delivering an attentive, 1-1 service such as styling, assisting with queries, and offering expert product knowledge and advice.
Automation has the power to completely shift the way consumers shop, by placing more control into the hands of the customer. By tackling both personalisation and convenience, retailers can utilise automation as a way to stand out from their competitors whilst addressing the challenges that come with in-store shopping.