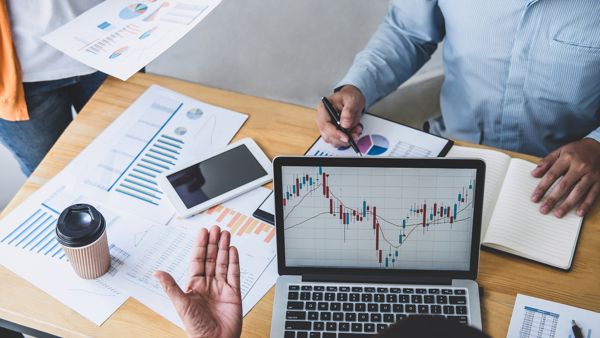 4 trends die de noodzaak van een modern dataplatform onderstrepen

Piet-Auke Boekema
Het geheim van de meest succesvolle en innovatieve bedrijven van deze tijd? Hun businessmodel draait om data. Door datagedreven te werken kun je sneller innoveren, sneller sturen en betere, door informatie onderbouwde beslissingen nemen. Daar hoort een modern dataplatform bij.
Een modern dataplatform is voorwaarde om te kunnen innoveren
Om te kunnen innoveren en snel in te spelen op trends en vragen uit de markt, moet je snel kunnen testen en de uitkomsten kunnen valideren. Een modern, cloud based dataplatform kun je zien als de brug tussen business en IT en faciliteert juist dat experimenteren en valideren. Maar ook het doorrekenen van verschillende scenario's en het testen van nieuwe businessmodellen. Daarom is een modern dataplatform een belangrijke voorwaarde om te kunnen innoveren en de concurrentie voor te blijven.
4 trends die de noodzaak van een modern dataplatform ondersteunen
1. Data-governance wordt prioriteit

Data governance is het op een goede manier managen van cruciale data assets, inclusief processen, architectuur en benodigde infrastructuur. Dit staat bij veel bedrijven hoog op de prioriteitenlijst en het is onmisbaar als je data op een goede en veilige manier wilt gaan verwerken. Tegelijkertijd is data-governance een uitdagend topic, omdat het impact heeft op alle lagen en processen in een organisatie. Een modern dataplatform zal goede governance veel beter faciliteren dan een verouderd systeem.

2. SaaS Analytics zorgen voor de benodigde snelheid en flexibiliteit

We verwachten dat het gebruik van SaaS Analytics exponentieel blijft doorgroeien. SaaS Analytics zijn diensten zoals Microsoft Azure Machine Learning Services, Azure Cognitive Services, Microsoft Purview en natuurlijk Power BI. Plus Azure Synapse als volledig SaaS Enterprise Data Management Platform. Deze as-a-Service Analytics diensten bieden flexibiliteit in gebruik en in snelheid. Je kunt je data er met een gerust hart aan toevertrouwen.

3. Bedrijven bouwen aan een sterke datacultuur

Er is sprake van een datacultuur in een organisatie als iedereen overtuigd is van het belang van data, medewerkers met vertrouwen met data werken en data gebruiken om gefundeerde beslissingen te kunnen nemen.

In organisaties met een sterke datacultuur komen data-discovery, datavisualisatie, storytelling en inzichten die leiden tot verbeteracties samen. Deze bedrijven zetten bijvoorbeeld in op gebruiksvriendelijke data en op storytelling en visualisaties om een duidelijke boodschap te vertellen en betere inzichten te bieden. Zodat iedereen, elke dag, betere beslissingen kan nemen en direct tot actie kan overgaan. Flexibele technologie, te beginnen met een up-to-date platform voor moderne datatechnologie, is hiervoor de basis.

4. Met data influence verborgen informatie aan het licht brengen

'Data influence' gaat over het inzetten van algoritmes om verbanden te vinden die men niet zelf kan vinden. Met als doel deze algoritmes in te zetten ten behoeve van de bedrijfsambities en strategie. Data mining, machine learning en AI worden ingezet om invloed uit te kunnen oefenen. Op deze manier neem je beslissingen op basis van vooruitzichten en voorspellingen die door datapatronen in combinatie met algoritmes aan het licht zijn gebracht.
Aan de slag?
Waar je met een traditioneel dataplatform mogelijk prima uit de voeten kunt voor rapportages en 'terugkijken', wil je als je kiest voor het data-first principe, een dataplatform dat multi-inzetbaar is voor analyse, innovatie, verandering, beslissingen en voorspellingen. Bovengenoemde trends illustreren deze noodzaak van een modern dataplatform.
Snel, concrete stappen zetten in jouw bedrijf? In het whitepaper Data Platform Modernization lees je er meer over. Of neem direct contact met ons op voor een kennismaking of workshop!