Bredenoord ondersteunt
internationale groei met Dynamics 365
Internationale groeiambitie, verhogen klanttevredenheid, marktleider worden in levering decentrale energiesystemen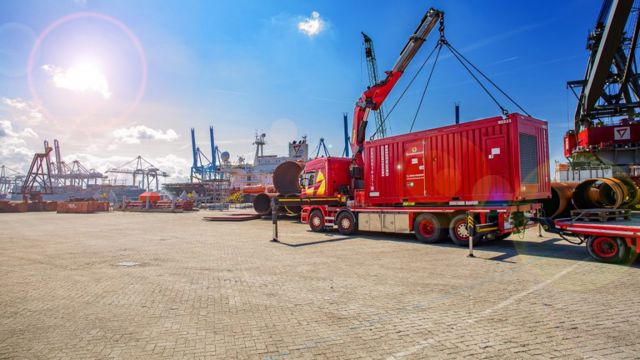 Familiebedrijf Bredenoord, gespecialiseerd in het ontwikkelen, bouwen, verkopen en verhuren van een breed scala aan stroomoplossingen, heeft Microsoft Dynamics gekozen als ERP systeem en samen met HSO geïmplementeerd. Door de ambitie van Bredenoord om de klanttevredenheid te verhogen en internationaal de betrouwbaarste toonaangevende decentrale energiesystemen te ontwikkelen, te leveren, te onderhouden en te exploiteren, was een nieuw ERP systeem noodzakelijk. Microsoft Dynamics bood hierin de meeste voordelen.
Door alle technische ontwikkelingen wordt de wereld kleiner, maar ook complexer. Oude maatwerkapplicaties kunnen deze snelle ontwikkelingen wel bijhouden, maar niet efficiënt en niet snel. Deze ontwikkelingen, zoals Big Data en Internet of Things, zijn door Bredenoord niet onopgemerkt gebleven. Met de visie om het bedrijf internationaal te ontwikkelen als marktleider in decentrale energiesystemen, was besloten afscheid te nemen van het oude systeem.
Nieuw en sterk fundament voor het bedrijf
Een van de belangrijkste redenen om over te stappen, was dat Bredenoord de strategische keuze heeft gemaakt om een nieuw en sterk fundament voor het bedrijf te bouwen. Een systeem waarmee sneller informatie verwerkt kan worden zodat ad hoc de juiste business decisions gemaakt kunnen worden. Met een sterk systeem als basis kan tevens de ambitie voor groei van het bedrijf worden versterkt.
Jaap Fluit, CEO Bredenoord:
"We willen snel en betrouwbaar energie blijven leveren aan onze klanten. Dat was de uitdaging waar we voor stonden. Ook de mogelijkheden bij het opstellen van financiële rapportages waren beperkt met ons oude systeem. Om onze ambities zo goed mogelijk na te kunnen streven, was ook dit proces aan vervanging toe."
De klik met Microsoft en HSO
Bredenoord ging specifiek op zoek naar een gebruiksvriendelijk systeem en daarbij een partner met veel expertise. "We waren op zoek naar een sterke Nederlandse partner. Een partner die het belang van onze diensten begreep en samen met ons wilde gaan investeren in de specifieke rental oplossing die wij nodig hadden", aldus Bertil Wever, CFO van Bredenoord. Na een uitgebreid selectietraject heeft Bredenoord de keuze gemaakt voor Microsoft Dynamics met de add-ons DYS Service Management en DYS Rental. HSO werd gekozen als partner. "Met HSO hadden we de juiste klik", aldus Wever.
"Bredenoord wil niet alleen innovatieve producten blijven ontwikkelen, maar ook voorop blijven lopen met haar business model."
Klantvoordelen
Dankzij de realtime informatie en samenwerkingsmogelijkheden, ondersteunt Microsoft Dynamics optimaal het verbeteren van de klantrelatie. Daarnaast is de tool gebruiksvriendelijk en aangepast aan de markt en bedrijfsomvang van Bredenoord. Microsoft Dynamics ondersteunt Bredenoord om klanten te voorzien van energiezekerheid van vandaag en morgen en overal ter wereld. "Door Microsoft Dynamics te implementeren kunnen wij de betrouwbaarheid blijven bieden op het gebied van tijdelijke stroomvoorziening ", vertelt Fluit. "Door gebruik te maken van de data in Dynamics is het uitvoeren van custom build projecten en het uitvoeren van engineer to order projecten gemakkelijk geworden. We zijn nu ook in staat meer standaard te leveren en we zijn voorspelbaarder als full service leverancier."
Internet of Things (IoT) project loopt
Omdat de bedrijfsvoering beter wordt ondersteund, hebben zowel Bredenoord als haar klanten hier voordeel van. Het bedrijf kan sneller en flexibeler op de wensen van de markt inspelen. Wever: "Door de integratie in Dynamics over al de bedrijfsprocessen heen, zoals verkoop, assembly, service aan derden, logistiek, verhuur en voorraadbeheer, is het eenvoudig om in andere landen direct een bedrijfsonderdeel op te starten en onze groeiambitie te ondersteunen. Microsoft Dynamics biedt Bredenoord fundament voor groei om onze relaties overal en altijd in hun betrouwbare energiebehoefte te voorzien.
Met HSO als expertise partner is met de implementatie veel bereikt in een korte tijd. Mede door onze goede samenwerking zijn we gestart met een Internet of Things project samen met HSO." Met het IoT pilot project dat HSO momenteel doorloopt met Bredenoord worden, met behulp van Microsoft Azure, de voordelen geschetst van het koppelen van verschillende smart tools en devices. Bredenoord wil er met dit project achter komen hoe, met het koppelen van de data, het bedrijf nog meer waarde kan bieden aan haar klanten. Dit project volgt op een eerdere stap die Bredenoord heeft gezet met de ESaver: een hybride aggregaat waarmee 70 procent van de brandstof en emissie bespaard kan worden bij gelijke stroomlevering. Hier speelde het live opleveren van informatie vanuit de machine naar de klant (Machine Learning) een grote rol in het succes. Dat is waar de klant van tegenwoordig waarde aan hecht en waar Bredenoord volledig achter staat.