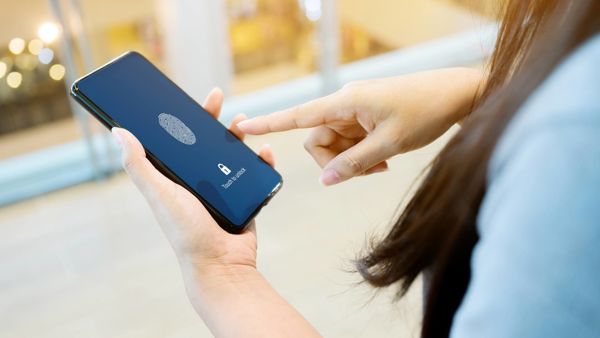 Partners in crime: Modern Workplace en cloud security

Nick Nieuwenhuis
Hoe beveilig je systemen, applicaties, en data die in de cloud staan? De overstap van een on premise omgeving, gebouwd op kantoorlocaties en datacenters, naar een cloud-based platform brengt relevante vragen met zich mee op het gebied van cloud security. Zeker in een tijd waarin remote werken de standaard is. Hoe beveilig je systemen, applicaties, en data die in de cloud staan? Bij nieuwe manieren van werken met innovatieve, cloud-based technologie zoals de Modern Workplace is security een belangrijk aandachtspunt. Maar hoe organiseer je dit en waar moet je op letten?
Nick Nieuwenhuis, werkzaam als Cloud Consultant bij HSO vertelt in dit blog welke functionaliteiten en tools Microsoft 365 biedt om je cloud-platform beter te beveiligen.
De uitdagingen in cloud security voor de CI(S)O in 2022
Als gevolg van de coronacrisis spelen technologie en IT een steeds belangrijke rol in organisaties. In 2021 hebben we daardoor vraagstukken op het gebied van cloud en security enorm zien stijgen. Maar als CI(S)O wil je kunnen richten op innovatie en op een integrale digitale transformatie. Daarbij moet je kunnen vertrouwen op een goed beveiligde en overal toegankelijke werkplek. De moderne werkplek vraagt om een andere visie op security. HSO helpt je hierbij!
"Microsoft 365 biedt een geïntegreerde beveiligingsoplossing over de complete Modern Workplace omgeving"
Een nieuwe benadering van cloud security met Microsoft 365
Microsoft 365 is de Modern Workplace oplossing van Microsoft en bestaat uit Windows (10/11/365), Microsoft Enterprise Mobility & Security (EMS) en Office 365. Microsoft 365 biedt een geïntegreerde beveiligingsoplossing over de complete Modern Workplace omgeving. Hieronder heb ik de belangrijkste cloud security tools en services binnen Microsoft 365 op een rijtje gezet.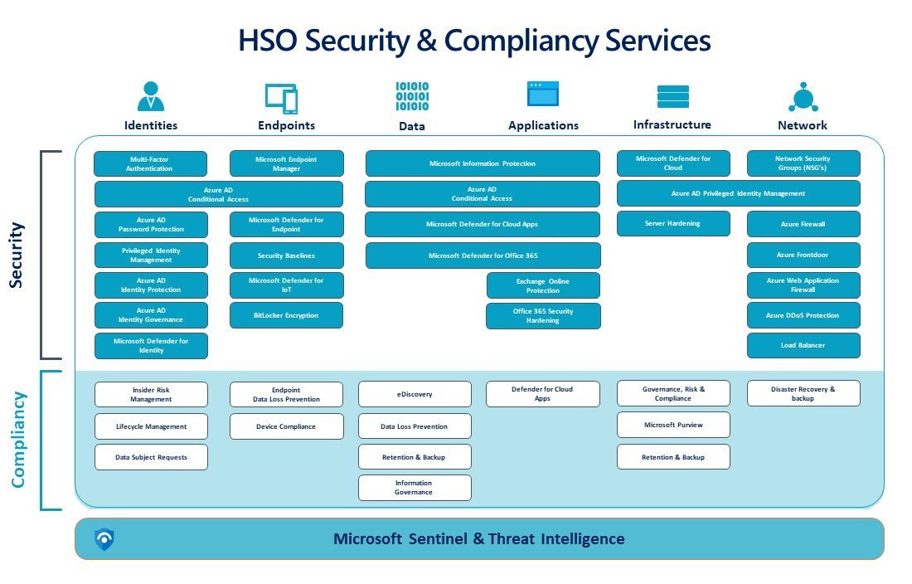 Azure Active Directory: de sleutel tot succes
Azure Active Directory (AAD) wordt gebruikt als de Identity and Access Management (IAM) laag in de Microsoft-cloud (Azure). In AAD kan je met behulp van multi-factor authenticatie (MFA) en voorwaardelijke toegang (Conditional Access) een extra beveiligingslaag toevoegen. De IT-beheerders bescherm met je Priviliged Identity Management (PIM) en afwijkingen in inloggedrag van medewerkers en gasten vang je op met Azure AD Identity Protection. Met de juiste (Identity) governance zorg je ervoor dat oude identiteiten tijdig worden opgeschoond.
Microsoft 365 Defender
Microsoft 365 Defender is dé Extended Detection & Response (XDR) oplossing waarmee devices, identiteiten, applicaties en data beter beveiligd zijn tegen bedreigingen. Hiermee verklein je kwetsbaarheden, zoals 0days, en elimineer je aanvallen voordat ze plaatsvinden. Met Microsoft Defender for Identity krijg je inzicht in en bescherm je identiteiten tegen malafide gedrag op de lokale AD. Microsoft Defender for Endpoint beschermt jouw devices tegen cyberdreigingen, zoals Malware en Ransomware, door middel van endpoint detection and response (EDR), attack surface reduction (ASR) en Automated Investigation and Response (AIR). Met Microsoft Defender for Office 365 bescherm je apps zoals Teams, SharePoint en Outlook tegen dreigingen zoals (spear-)phishing, malware en social engineering.
Microsoft Purview
Met Microsoft Purview ontdek, bescherm en classificeer je gevoelige informatie en data, zowel in de cloud als on-premises. Onderdeel van Purview zijn o.a. Information Protection, Data Loss Prevention en Retention Policies. Door het inzetten van Microsoft Purview beheer je wie toegang heeft tot welke data, zodat onbevoegden nooit toegang hebben tot gevoelige informatie.
Defender for Cloud Apps
Door toenemend gebruik van (3rd party) cloud apps en services, onstaat er een wildgroei aan apps in je organisatie. Microsoft Defender for Cloud Apps is dé Cloud Access Security Broker (CASB) en biedt zichtbaarheid, controle en analyse over al het data transport van en naar je organisatienetwerk. Dit geldt voor Microsoft apps alsmede voor 3rd party SaaS Apps, zoals WeTransfer, Dropbox maar ook Facebook. Met Defender for Cloud Apps zie je dus welke apps er binnen je organisatie worden gebruikt, waarna je het gebruik ervan kan monitoren en beveiligen. Zo krijg je beter inzicht in Shadow IT en bescherm je jouw organisatie tegen cyberdreigingen buiten de Microsoft 365 omgeving.
Microsoft Sentinel
Als laatste in dit blog licht ik graag Microsoft Sentinel toe. Microsoft Sentinel is een Security Information en Event Management (SIEM) en Security Orchestration Automated Response (SOAR) oplossing van Microsoft. Microsoft Sentinel levert slimme beveiligingsanalyse en bedreigingsinformatie voor de hele organisatie. Hiermee is Sentinel één oplossing voor detectie, zichtbaarheid, proactieve opsporing en reactie op bedreigingen, over al je netwerkverkeer. Met behulp van threat hunting kan je op zoek naar dreigingen in je omgeving die wellicht door de policies zijn heen gekomen. Zo blijf je in control.
Het HSO Security Assessment is een eerste stap in het verbeteren van de beveiliging van de moderne werkplek. Meer weten? Download de factsheet of neem gerust direct contact met ons op.