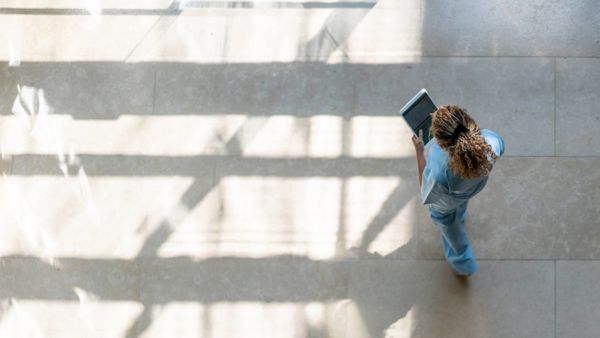 De noodzaak van verandermanagement

Merel Hummelink
De wereld om ons heen wordt steeds dynamischer. Elke week worden nieuwe innovatieve bedrijfsapplicaties en functionaliteiten aangekondigd. Om mee te gaan in deze veranderingen en de concurrentie voor te blijven heb je een dynamische omgeving nodig met minimaal of het liefst geen maatwerk. Alleen zo kun je snel inspelen op de veranderingen in de markt. Om dit tempo bij te houden, vraagt dit om een andere bedrijfsstrategie, aanpassingen aan huidige processen en een andere manier van werken.
Wist je dat het moeilijkste deel van veranderen, en dus een implementatie, niet eens direct na livegang is? Het is veel later dan direct na de livegang... Het is op het moment dat alles misgaat, dat mensen terug willen naar hun oude gewoontes en hun oude manier van werken. En precies dit is het moment om door te zetten, want voordelen worden pas gerealiseerd als de organisatie volledig op één lijn zit en als de verandering 'business as usual' wordt: dat is het moment waarop je projectdoelstellingen haalbaar worden en je voordelen gaat realiseren.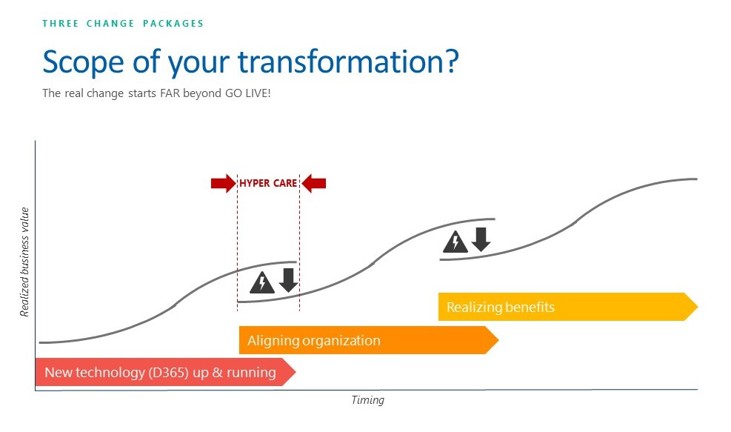 Begin bij het begin: de projectkenmerken die van invloed zijn op succes
Elk project heeft zijn eigen kenmerken die vaak balanceren tussen strategisch belang, urgentie, acceptatie en omstandigheden waarin het project evolueert. Al deze kenmerken zijn van invloed op het uiteindelijke succes. Het is daarom belangrijk om te beslissen welke strategie moet worden toegepast om het project te beheren.
Om deze kenmerken te achterhalen om het ultieme succes te kunnen behalen, moeten we dieper de materie in. Dit is de reden waarom HSO Business change as a service heeft toegevoegd aan haar projectmethodologie. Deze methodologie is gebouwd op Prosci©, volgens Microsoft de beste change management methodologie voor IT-projecten.
Organization readiness assessment
Er zijn verschillende manieren om de organisatie en de projectkenmerken te leren kennen, maar het readiness assessment is een must-do. Dit assessment is een van de belangrijkste Prosci© assessments en wordt gebruikt om de organisatie te analyseren met betrekking tot verandering.
Vragen over de organisatie die hieruit beantwoord kunnen worden zijn:
Hoe succesvol zijn we als organisatie in het managen en ondersteunen van veranderingen?
Hebben we onze missie voor deze verandering goed genoeg geformuleerd?
Lukt het ons om iedereen mee te krijgen?
Deze beoordeling werpt ook een licht op de veranderingskenmerken zelf:
Wie zijn betrokken bij deze verandering?
Hoe complex is het en om hoeveel mensen gaat het?
Zijn we in staat om deze verandering door te voeren?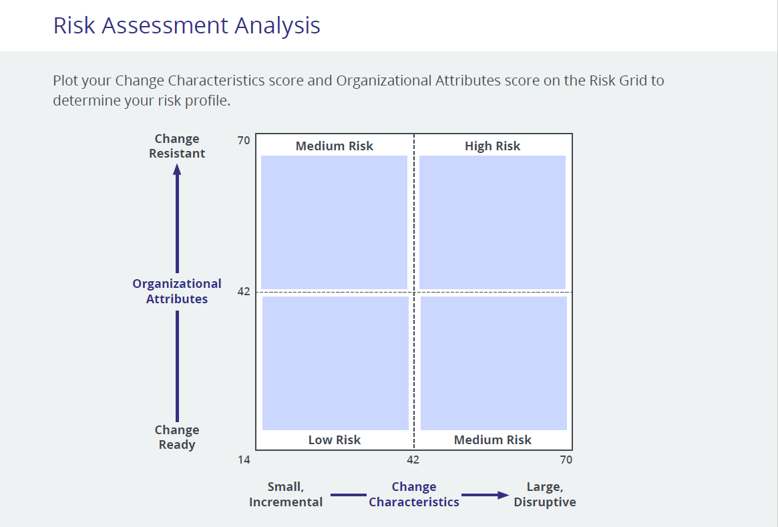 Deze vragen worden gesteld en beantwoord tijdens de readiness workshop met het management op C-level. De uitkomst wordt weergegeven in een risicokwadrant (zie hierboven) en zal plenair worden besproken met als resultaat een uniforme visie en aansturing van het project en de mensen.
Begrijp me niet verkeerd, maar om eerlijk te zijn, zijn de antwoorden op bovenstaande vragen en het eindkwadrant minder belangrijk dan de discussie tijdens de workshop zelf. Tijdens deze workshop worden namelijk aannames uitgesproken en interessante uitspraken gedaan waarvan men onderling nog niet op de hoogte is. Aannames en uitspraken die bij C-level veel duidelijkheid zullen geven over hoe ze denken over de verandering, hoe om te gaan met deze verandering en hoe deze te managen. Dit helpt direct bij het formuleren van één uniforme visie en de definitie van succes voor komende verandering.
De verandering is duidelijk, maar wie worden er getroffen?
Na de beoordeling van de gereedheid van de organisatie maken we een heatmap voor het bedrijfsfunctiemodel (ook wel 'BFM' genoemd). Het bedrijfsfunctiemodel toont alle bedrijfsprocessen die binnen de scope van het project vallen. Elk bedrijfsproces wordt afzonderlijk geanalyseerd met 'The 10 Aspects of Change Impact©' in het achterhoofd, wat resulteert in een heatmap die aangeeft op welke mensen en processen de verandering de meeste impact zal hebben (een voorbeeld van een BFM-heatmap wordt hieronder weergegeven). Deze mensen en processen staan daarna bekend als: de Most Impacted Group. Deze informatie wordt voor verschillende doeleinden gebruikt:
Om de projectstrategie aan te scherpen: wat wordt de belangrijkste focus voor onze Business change as a service activiteiten en wie is de doelgroep voor deze activiteiten?
Als input voor de project roadmap: hebben we een pilotproject nodig (een succesverhaal omdat veel veranderingen in het verleden mislukten) of gaan we starten met het meeste complexe scenario?
Welke teamleiders (of wie van het middenmanagement) moeten voorop lopen in deze verandering? Zijn deze teamleads kundig genoeg om alle medewerkers mee te krijgen met deze verandering?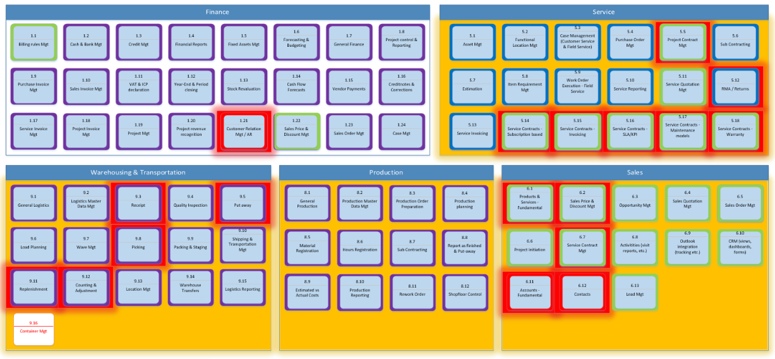 Zet de organisatie in beweging!
Wanneer de verandering duidelijk is en de processen en de mensen die geraakt worden door deze verandering geïdentificeerd zijn, is het tijd om te beginnen met communiceren. Zorg in de communicatie dat de definitie van het succes van deze verandering echt op een begrijpelijke manier wordt geformuleerd voor iedereen in de organisatie. Alleen op deze manier komen de medewerkers in beweging en zullen zij de motivatie ontwikkelen om aan de verandering mee te werken. Duidelijkheid is key!
De eerste communicatie zal altijd gedaan moeten worden door C-level. Meerdere (11!) Prosci-studies tonen aan dat actieve en zichtbare sponsoring de nummer 1 bijdrage aan succes is. Daarom zijn sponsors van cruciaal belang en begint de communicatie bij hen.
Wat moet de sponsor doen?
Actief en zichtbaar

Omdat medewerkers naar de sponsor zullen kijken, is zijn/haar zichtbaarheid erg belangrijk. "Als mijn sponsor er niet is, waarom zou ik dan wel meedoen?"

Bouw een coalitie

Als sponsor heb je people managers nodig: medewerkers vertrouwen ze, ze zijn dicht bij waar de verandering plaatsvindt, ze kunnen weerstand verminderen en draagvlak opbouwen.

Communiceren

Communiceer rechtstreeks met medewerkers en check regelmatig in, vraag hen hoe het met ze gaat en vraag om feedback.
Do & don'ts
De sponsor zal gedurende de hele levensduur van het project van zich moeten laten horen, verbaal en non-verbaal
De sponsor zal regelmatig contact op moeten nemen met het projectteam
Het middenmanagement is de sleutel tot de hele organisatie, gebruik ze!
Wees eerlijk als je onvoldoende informatie hebt of antwoorden niet weet
Onderschat de menselijke kant van de verandering niet
Delegeer sponsoring niet aan het middenmanagement
Faal niet in het tonen van steun voor het project in woorden en daden
Management in beweging
Het in beweging krijgen van het management en de organisatie begint dus bij een duidelijke missie en een goede coalitie op C-level die kan helpen de weerstand te verminderen en de acceptatie te vergroten. Als dit is ingeregeld kunnen de volgende activiteiten opgevolgd worden, te beginnen met het meten van de voortgang van de verandering zelf met ADKAR.
Lees meer over ADKAR in onze volgende blog!
Maak een afspraak
Wil je jouw projectsucces maximaliseren of wil je meer weten? HSO heeft haar eigen Business change as a service specialisten! Neem contact met ons op via onderstaand formulier.