Power Platform vult formulieren vliegensvlug in voor Vanderlande
Inkooporder aanvragen en formulieren voor een nieuwe leverancier optimaliseren.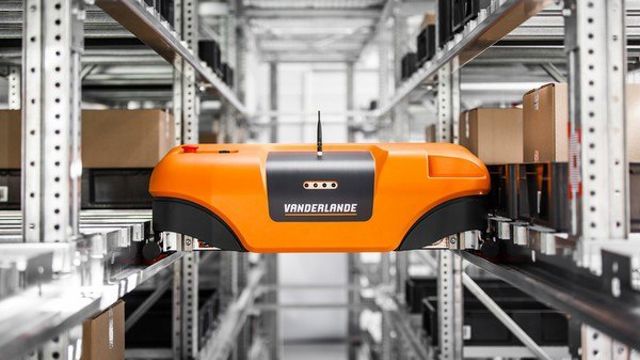 De inkooporder aanvragen en formulieren voor een nieuwe leverancier optimaliseren. Dat was het doel van Vanderlande. De marktleider in transportsystemen voor interne logistiek ontdekt inmiddels het gemak van het Power Platform. HSO zorgde voor gebruiksvriendelijke en overzichtelijke formulieren die in een handomdraai zijn ingevuld. Joris Pijnenborg (Vanderlande), Carin van der Aa (Vanderlande) en Thim Derks (HSO) vertellen met trots over de innovatie.
Gebruiksvriendelijker en stabieler
Inkooporder aanvragen en formulieren voor nieuwe leveranciers invullen, was voorheen een monsterklus voor Vanderlande, met een reële kans op fouten. Medewerkers vulden handmatig inkooporderaanvragen in. Een tikfoutje of ontbrekende informatie betekende extra werk voor gebruiker en inkoper. Bovendien hadden deze fouten snel verstrekkende gevolgen, denk bijvoorbeeld aan incorrecte inkoopprijzen, afleveradressen of inkoopvoorwaarden. "Daarnaast was het systeem niet stabiel genoeg", vertellen Joris en Carin.
Tijd voor verandering. De interne IT-afdeling van Vanderlande verwees Joris door naar HSO. "In hen vonden we een betrouwbare en kundige partner." Carin overzag vanuit Vanderlande het project en was aanspreekpunt voor HSO. "We wilden een duidelijk en gebruiksvriendelijk platform dat manueel werk van onze mensen wegneemt", vertelt Carin. Joris vult aan: "Het moet heel simpel zijn. Het Power Platform is gebaseerd op masterdata uit ons ERP-systeem, waardoor het gebruikers helpt door automatisch informatie aan te vullen in plaats van manuele invoer. Dat zorgt niet alleen voor een betere gebruiksvriendelijkheid, maar ook voor een aanlevering van informatie."
"HSO heeft de kennis en expertise."
"De datakennis die er nu is, was voorheen niet aanwezig in het bedrijf. HSO heeft deze kennis en expertise wel. Dit helpt ons enorm tijdens de ontwikkeling van het nieuwe dataplatform. Daarnaast voelen we ons begrepen. De mensen van HSO snappen feilloos wat wij als bedrijf nodig hebben. Een lange instructie lezen mensen niet. Een nieuw systeem moet daarom heel simpel zijn voor de gebruiker. Dankzij het Power Platform hebben we een intuïtieve applicatie voor gebruikers die zorgt voor een betrouwbare aanlevering van informatie met als resultaat minder manueel werk in het inkoopproces."
Een inkooporderaanvraag of een formulier voor een nieuwe leverancier lijkt misschien 'gewoon een papiertje', maar het is veel meer dan dat. Het is namelijk een formulier waar meer dan 7.000 medewerkers wereldwijd mee gaan werken. "Dat vereist een ontwerpaanpak waarbij je uitgaat van een gebruiker die nauwelijks bekend is met de applicatie, het inkoopproces en het formulier", vertelt Joris.
Twee bedrijven, één team
"De uitdagingen wisten we goed op te lossen door heldere en eerlijke communicatie naar elkaar", vervolgt Thim. "We wisten beiden wat we verwachtten. De samenwerking met Vanderlande voelde voor mij dan ook niet als twee groepen, als klant en leverancier. We waren een team. Waar niemand met vingers wijst, maar waar we samen meedenken en oplossen", zegt Thim.
Joris prijst ook de flexibiliteit van HSO. "Toen HSO vertelde dat het onzeker bleek of de applicatie op tijd af zou zijn, werkten zij net zo hard door tot het lukte. HSO loste zaken op en dacht mee, ongeacht de oorzaak of de eigenaar van het probleem. We waarderen de inzet van HSO enorm. Daarnaast spreekt HSO dezelfde taal. Thim was in staat om onze gebruikersvereisten te vertalen naar een solide IT-ontwerp. Dat werkt heel fijn."
Vervolg na deze pilot
Volgens Carin zijn er vanaf het eerste moment lovende reacties op het Power Platform binnen Vandelande. "De bedrijfsprocessen zijn veel meer gestroomlijnd. En voor onze mensen is het vele malen gebruiksvriendelijker dan het oude systeem."
Het inzetten van het Power Platform was een soort pilot. Eentje die met vlag en wimpel is geslaagd. In de toekomst wil Vanderlande dat de applicatie voor meer doeleinden wordt gebruikt, zodat alle informatie gecentraliseerd en gestructureerd wordt opgeslagen.
Wil jij ook jouw organisatie optimaliseren met het Power Platform?