BAM gaat voor service excellence met nieuw Field Service-platform
Service Excellence strategie op basis van Connected Field Service, Data & AI en een nieuwe manier van werken.
BAM levert service excellence met nieuw Field Service-platform
Hoe houd je een oppervlakte van 800.000 m2, met ruim 17.000 assets, van klimaatinstallaties en schuifdeuren tot roltrappen en bagagebanden, 24/7 in topconditie? In 2018 won BAM Bouw en Techniek bv de aanbesteding voor het onderhoud van Terminal 3 op Schiphol, onder meer dankzij hun visie op connected field service. Anouk Schrauwen, IT Business Partner bij BAM Bouw en Vastgoed Nederland bv vertelt over deze uitdagende opdracht en de keuze voor het field service-platform van HSO.
Anouk Schrauwen: "BAM wil klanten service excellence bieden in combinatie met een innovatief pakket aan diensten en betrokken en gemotiveerde medewerkers. Om zo de klanttevredenheid te verhogen en langdurige klantrelaties op te bouwen. Om deze ambitie te realiseren, hadden we een field service-platform nodig die onze strategie volledig ondersteunt, alle klantgerelateerde processen dekt en zoveel mogelijk gebruik maakt van geavanceerde digitale technologieën. Met dat doel voor ogen zijn we het project UP! Field Service gestart: de implementatie van een nieuw buitendienstplatform dat datagedreven is en dat 'one way of working' mogelijk maakt."
Een cloud-based, toekomstbestendig field service-platform
Dynamics 365 for Sales was al aanwezig bij BAM. HSO werd geselecteerd om Microsoft Dynamics 365 for Field Service te implementeren. Anouk: "We hebben voor HSO gekozen vanwege hun bewezen staat van dienst op het gebied van Field Service in de bouw- en constructiesector. We waren met name op zoek naar een oplossing die flexibeler zou zijn dan de onderhoudstooling die we hadden. Een field service-platform dat gebruik maakt van het IoT en toekomstbestendig is. Dynamics Advanced Field Service van HSO sloot het beste aan op onze processen."
Belangrijkste statistieken
De feiten op een rij
Microsoft en HSO helpen BAM 17.000 assets op Schiphol te beheren
Hoe houd je een oppervlakte van 800.000 m2, met ruim 17.000 assets, van klimaatinstallaties en schuifdeuren tot roltrappen en bagagebanden, 24/7 in topconditie?
Henk-Jan van de Beek is als managing director HSO CRM Solutions nauw betrokken bij de implementatie van de oplossing. Henk-Jan: "HSO heeft veel ervaring in field services en we kennen de processen en de issues waar technische dienstverleners mee worstelen. HSO is één van de weinige Microsoft Solution Integrators die in staat is om de complete maintenance cyclus bij klanten te implementeren."
HSO is één van de weinige Microsoft Solution Integrators die in staat is om de complete maintenance cyclus bij klanten te implementeren.
De integratie van Field Service met inkoop en finance speelde voor BAM een belangrijke rol bij de selectie van deze oplossing. Henk Jan: BAM werkt veelal met multiple-service contracts, waar verschillende afdelingen bij betrokken zijn, die complex zijn om goed te beheren. In onze Field Service oplossing is dit allemaal afgedekt. De Field Service app is volledig geïntegreerd met planning en met de financiële processen. Dat maakt de oplossing ook zo compleet. Ons field service-platform dekt de hele keten: van CRM (de sales funnel), tot aan de daadwerkelijke opdracht. Als er vervolgens iets kapot gaat of er is een storing, dan wordt er automatisch een werkorder aangemaakt. Is de storing opgelost en goedgekeurd, ontvangt de financiële afdeling hierover een update. Op deze manier heb je compleet zicht op je klant."
"Ook helpen we onze klanten met 'connected scenarios'. Dat wil zeggen dat we op basis van signalen van IoT devices kunnen vaststellen of en wat er aan de hand is. Op basis daarvan kan dan, volledig automatisch, een werkorder aangemaakt worden en een engineer gepland worden om het probleem op te lossen. Tegelijkertijd helpen de data die we hiermee genereren ons beter te voorspellen waar preventief onderhoud nodig is, zodat we verstoringen voor de gebruiker op ongewenste momenten zoveel mogelijk kunnen voorkomen. Oftewel: a frictionless experience."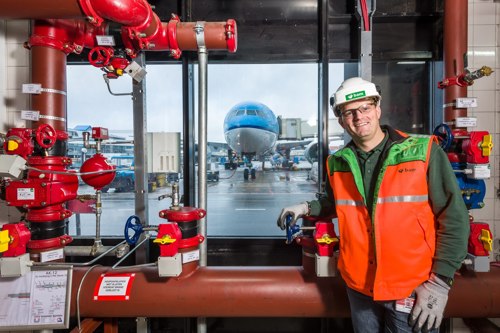 Datagedreven oplossing
Op 1 april 2019 is het eerste serviceteam op Schiphol live gegaan. In totaal werken inmiddels ongeveer 200 gebruikers, zoals planners en service engineers, dagelijks met Dynamics 365 for Field Service. Het totale aantal gebruikers zal begin volgend jaar toenemen tot ongeveer 1.500 gebruikers, die continu data toevoegen, analyseren en interacteren met data. Uiteindelijk zal het field service-platform internationaal worden uitgerold.
Bij BAM worden de financiële en backofficeprocessen in SAP beheerd. Voor alle commerciële en klantgerelateerde processen maakt BAM gebruik van Microsoft-technologie: Dynamics 365 for Sales, – Field Service, BI- en IoT-technologie, gebouwd op Azure IaaS en Azure PaaS.
Henk-Jan: "Het project bracht behoorlijk wat complexiteit met zich mee op het gebied van integratie en een enorme hoeveelheid data en databronnen. Maar deze data zijn cruciaal, want juist die spelen een sleutelrol in de toegevoegde waarde van de oplossing."
Anouk: "In de oplossing combineren we data van Schiphol met onze eigen data. Die combinatie levert ons veel informatie op over alle assets die we moeten onderhouden. Hiermee kunnen we het onderhoud steeds beter voorspellen."
Mensen uiteindelijk verantwoordelijk voor een succesvolle verandering
De nieuwe manier van werken en de transformatie van de BAM organisatie, die onlosmakelijk verbonden is met de strategie van service excellence, is eigenlijk nog uitdagender dan het technische gedeelte. Anouk: "We vragen van iedereen op de werkvloer, van planner tot monteur, een nieuwe, eenduidige manier van werken, met standaard werkprocessen. Het vervangen van het systeem is slechts een eerste stap in het realiseren van onze strategische doelstellingen. Dat vraagt om een verandering van onze organisatie en van de werkcultuur, waar we dan ook veel energie in steken. Tot nu toe met een heel positief resultaat!"
Een buitendienstoplossing voor de uitdagingen van morgen
HSO en Microsoft blijven investeren in zijn field service-platform. We trekken nieuwe klanten aan, werven en trainen nieuwe mensen en we omarmen nieuwe technologie, waarbij we big data en analytics verbinden met onze Field Service praktijk. Meer weten over de oplossing voor BAM en de mogelijkheden van Field Service voor jouw bedrijf?
Lees meer
Klantcases in Manufacturing & Field Service