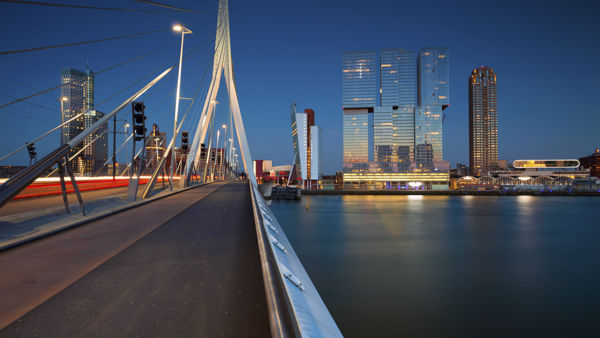 HSO, Global Microsoft Solutions Partner, neemt Motion10 over
De overname breidt HSO's bestaande Microsoft Cloud-diensten verder uit en vergroot haar capaciteit om digitale en applicatie-innovatie, data en AI, cloud-infrastructuur en beveiligingsdiensten te leveren met behulp van Microsoft Cloud-technologie.
Amsterdam, 22 november 2022 - HSO, een toonaangevende wereldwijde partner op het gebied van digitale transformaties, kondigt vandaag de overname aan van Motion10, een specialist op het gebied van Managed Cloud en digitale innovatie met het Microsoft platform.
Het in Rotterdam gevestigde Motion10 is een gerenommeerde Microsoft Solutions Partner die meer dan 140 verschillende klanten bedient, waaronder een aantal bekende internationale merken in diverse sectoren, zoals de financiële en publieke sector, retail en de zakelijke dienstverlening.
Motion10 is uitgegroeid tot een belangrijke speler op het gebied van digitale innovatie op Microsoft Cloud. Met een bewezen Managed Cloud-methode, helpt het bedrijf klanten bij het versnellen van hun cloud-strategie. Motion10 combineert uitgebreide diensten op het gebied van data, AI en IT-beveiliging met applicatie-innovatiediensten door het gebruik van low code-platforms van Microsoft (Power Platform) en OutSystems.
Bob de Jong, Operationeel Directeur Motion10: "Net als HSO zijn wij een toonaangevende en invloedrijke Microsoft Solutions Partner. Onze klanten en medewerkers staan centraal bij alles wat we doen. Samen met HSO kunnen we nu alle Microsoft-diensten aan onze klanten aanbieden. We bouwen aan een toekomst waarin we blijven doen waar we goed in zijn: de digitale innovatie van onze klanten tot een succes maken met onze Managed Cloud-aanpak. We kijken ernaar uit om ons bij HSO aan te sluiten en onze groeistrategie verder uit te bouwen."
Met deze overname wordt het bestaande cloud-portfolio van HSO versterkt. Samen met de wereldwijde expertise van HSO op het gebied van Dynamics 365-bedrijfsapplicaties, kan klanten nu een geïntegreerde aanpak worden geboden. Van projectimplementatie tot volledig beheerde clouddiensten. Dankzij deze overname wordt HSO ook relevant als Microsoft cloud platform partner voor klanten die gebruik maken van andere bekende bedrijfsapplicaties, zoals: SAP, Oracle, Infor, Salesforce en ServiceNow.
Peter J. ter Maaten, oprichter en CEO van HSO: "Wij zijn erg verheugd om Motion10 te mogen verwelkomen binnen onze HSO-familie. Met de overname van Motion10, en daarmee de unieke methode voor het versnellen van het effect van cloud-technologie en digitale technologie, versterken we onze positie als een van de toonaangevende Microsoft Cloud-partners. Onze visie is helder: wij willen dé wereldwijde aanbieder van diensten op het gebied van zakelijke en digitale transformaties zijn en blijven. Hierdoor kunnen wij continue invulling geven aan onze ambitie om de bedrijfsprestaties en resultaten van onze klanten te blijven verbeteren."
De overname van Motion10 is de vijfde overname sinds HSO in 2019 een groei-injectie kreeg van de wereldwijde investeringsmaatschappij Carlyle (NASDAQ: CG). Deze transactie intensiveert HSO's strategie om het bedrijf te positioneren als de toonaangevende wereldwijde Microsoft-partner voor digitale- en bedrijfstransformatiediensten, gebruikmakend van het Microsoft Cloud-platform.
Over Motion10
Motion10 maakt de digitale innovatie van organisaties succesvol. Dankzij de technologie-overstijgende aanpak zijn de klanten van Motion10 en hun medewerkers in staat om te excelleren in een continu veranderende wereld. Deze aanpak garandeert maximale toegevoegde waarde voor de klanten van Motion10. Het bedrijf ontwikkelt moderne cloudoplossingen en integreert systemen om digitale processen te optimaliseren. Zo helpt Motion10 organisaties om betere beslissingen te nemen en hun business te ontwikkelen op basis van data-analyse.
Met het Microsoft Power Platform en de OutSystems-technologie ondersteunt de organisatie haar klanten bij het opzetten van een digitale werkplek en het creëren van een breed geaccepteerde, veilige, moderne en persoonlijke werkomgeving met behulp van low code platformen. Het in 2008 opgerichte Motion10 heeft als Microsoft Solutions Partner meerdere onderscheidingen verdiend. De benoeming tot Microsoft Country Partner of the Year in 2015 is hiervan de meest eervolle. Ga voor meer informatie naar www.motion10.nl.
Over HSO
HSO is een wereldwijd opererende Business Transformation Partner met diepgaande kennis van de sector, waarbij de volledige kracht van Microsoft-technologie wordt ingezet om een gerichte transformatie teweeg te brengen in de manier waarop mensen en bedrijven werken. Dit leidt uiteindelijk tot betere bedrijfsprestaties.
HSO helpt bedrijven hun bedrijfsvoering te moderniseren, intelligente automatisering toe te passen, realtime inzicht in de verschillende prestaties te verkrijgen en de betreffende klantorganisatie te verbinden. Hierdoor wordt de impact van digitale transformatie op basis van Microsoft Dynamics 365, Microsoft 365 en Microsoft Azure versneld.
Het in 1987 opgerichte HSO heeft meer dan 1.800 medewerkers verspreid over Europa, Noord-Amerika en Azië. Het bedrijf is een van 's werelds meest gerenommeerde Microsoft Partners. HSO is o.a. lid van de elite Inner Circle van Microsoft, die bestaat uit de beste 1% van alle partners wereldwijd. Ga voor meer informatie naar www.hso.com.
Contact
HSO
Paul Hope
Group Head of Marketing
Email: phope@hso.com
Motion10
Marije Teppema
Marketing Manager, Motion10
Email: marije.teppema@motion10.com