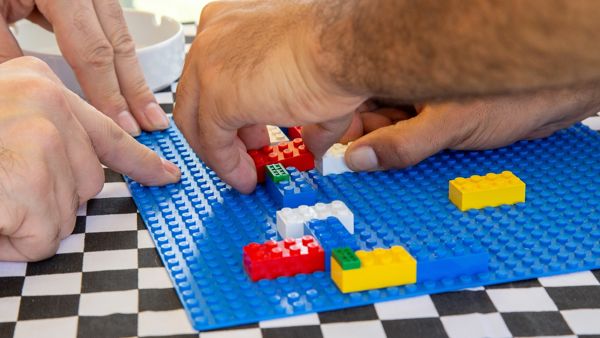 Katie Bishop: 
No problem is too large or small when you collaborate!
Meet Katie Bishop
Katie has been described as somebody that isn't just a role model in marketing, but a role model for everyone at HSO because of her project management and problem-solving skills and can-do attitude. So, we set about finding out the magic ingredients!
"I joined HSO in July 2021 from another Microsoft partner where I worked in marketing and sales operations. There are eight of us in the team as a core group in the USA – we all work fully remotely but get together annually for our all-hands meeting.
I am not sure there is a magic ingredient! For me, it all starts with the people I get to work with every day. It is a privilege to work alongside and collaborate with so many top-notch highly skilled and intelligent marketers. It is a joy to learn from one another and support one another and we are all each other's cheerleaders. Knowing that our work is appreciated and that we are individually appreciated not only as a person, but also for the contribution we make to HSO, makes a huge difference as you can see the impact you are having, and this is very motivating.
HSO is very transparent about its direction of travel and the goals for every year and how the company is looking to grow. We are also very clear on individual and team goals, so they have set us up well where we know what we are striving for.
Ever-evolving stands out the most because that is a value I closely hold to my heart, as I always believe in not staying still and keeping up with your own growth and skills and continually evolving those. Performance-driven is a close second. I am part of a high-performing team that encourages team collaboration, dedication, and gives you the power to be a decision-maker. I love the group of people I get to work with daily and pour everything I have into my work. I think in terms of career trajectory and career growth, HSO does a great job at providing its employees with the tools and resources to reach their full potential. HSO has plenty of opportunities available if you are willing to explore them - show interest and initiative and the company works with you to get you from one career goal to another.
I have never been described as a cross between a rockstar and a unicorn before! I am very honored! I don't think my management capabilities are unique. I think what I personally like to do is to make sure my team is taken care of and that we are able to work to our best. If I notice the team doesn't have something to be efficient or productive, I will always make sure we are supported, and we can handle our workload across all our projects. I am a big believer in giving everyone the best possible opportunity of doing a great job.
Meet Katie Bishop
I am really excited about what the future holds at HSO. We have many projects in motion now, along with a few large-scale, more impactful ones that I expect to streamline operations and ensure the team can be as efficient as possible and productive going into 2023.  I truly love what I do and find it exciting to see all the hard work come to fruition.