Video: Power Platform and Dynamics 365 Service for Onboarding, Case Management, and Use Cases
HSO created a Dynamics 365 Service for Onboarding, Case Management, and Use Cases proof of concept for a global Asset Management client, delivering in just two weeks.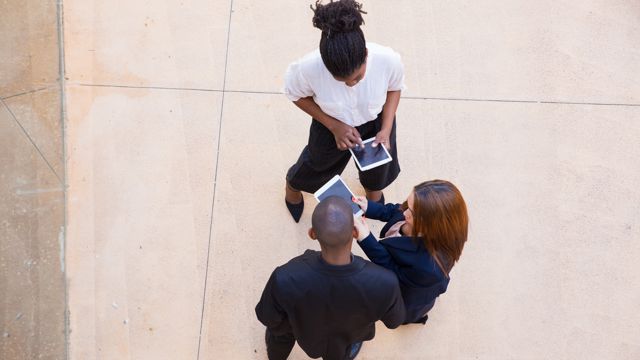 Dive into Power Platform and Dynamics 365 Service
Power Platform and Dynamics 365 for a global Asset Management firm
The primary focus was to help the client services team spend less time triaging client issues, and more time on servicing clients.
The solution started with an easy-to-use dashboard. It helps them focus on incoming activities from clients.
We introduced the concept of queues, which allows different teams to focus on different aspects of customer service issues. It is here we see that there are issues that come in by email, some that are onboarding related, some that are operations related. This is all automated through inbound client channels.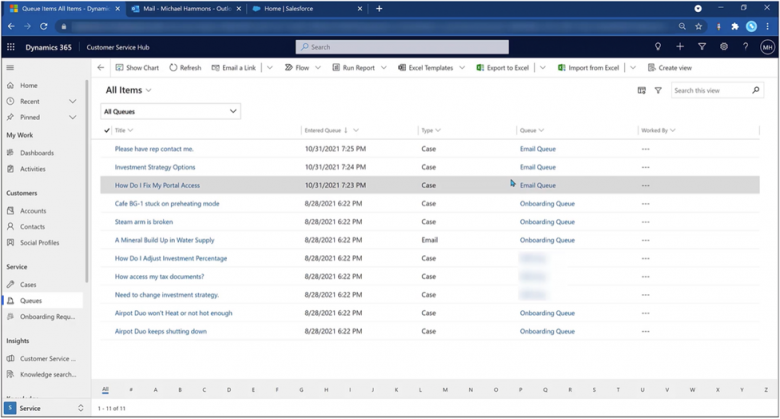 Now, let's look at a case that came in via email regarding investment strategy options. We opened, we see the details of all the interactions, plus we also incorporated existing documentation into a knowledge base that the client team can use to rapidly respond to client issues. Any topics can be incorporated for prescriptive and consistent responses.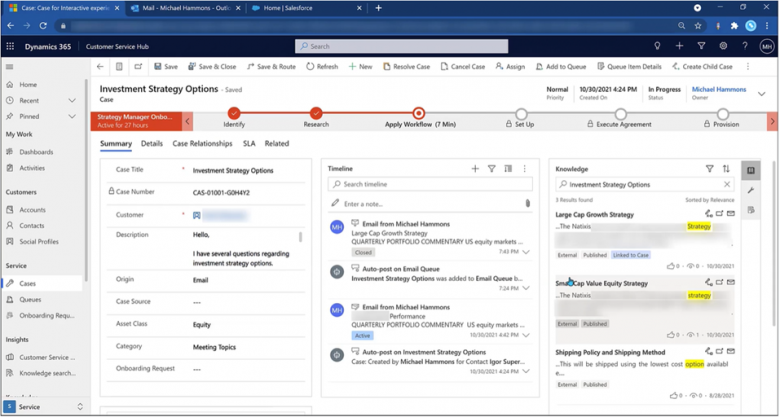 I'm going to easily respond to this customer by using the knowledge base article. Notice that it pre-populates the response. I can do any editing here. In this case, I'm just going to hit send.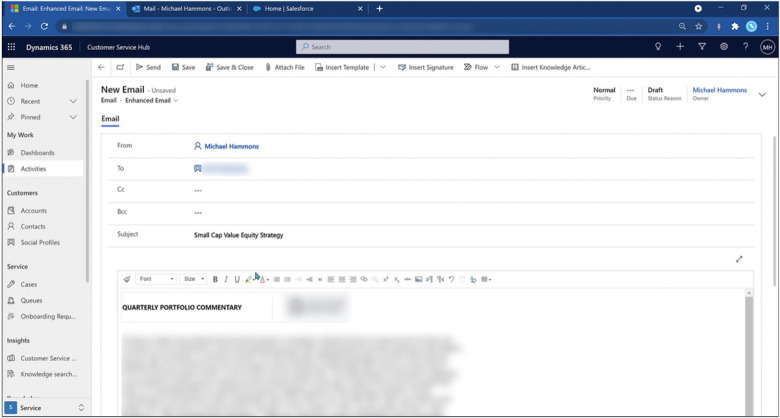 We introduced business processes to guide users through steps and stages of different tasks. We can use different business processes for different types of tasks. I'm going to continue this one, which is an onboarding set of tasks. We're going to create these next steps, and this is where others will take over completing the process. As you can see, we have different stages that have different tasks within each of those stages.
From here, we incorporated automated approval workflows. When we started the onboarding set of tasks, one of those tasks was an approval, which is required, and this is what it looks like inside of your email.
Very nice, simple, easy, clean. It has links back to the originating records and allows us to very quickly and easily either approve or reject that workflow.
Democratization of Technology integrating Dynamics 365 Service with Salesforce
We also have an example of what we call a democratization of technology. We delivered integration where cases that are created in the client services application is also pushed over to the Salesforce sales application. This helps keep the sales team well informed of everything that's happening within the client services team.
This was a demonstration of how Dynamics 365 Service for onboarding, case management, and use cases empowered the client services team to streamline their process.
Learn more
See how we support Financial Services companies