Smart Factory of the Future Expert View – Driving value across every area of your factory
In our Smart Factory of the Future Expert View series, we discuss how technology can help you to overcome some of the most important manufacturing and service industry challenges.
Learn how to realise the business benefits across the entire manufacturing value chain.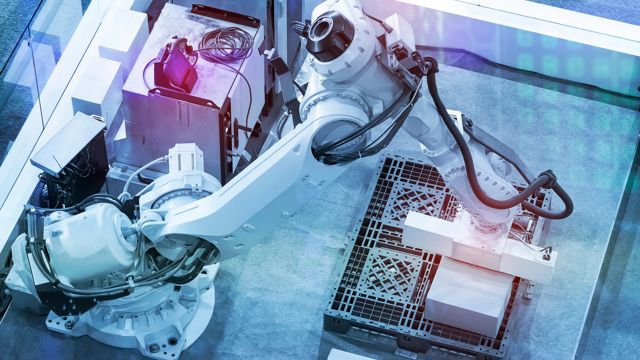 How biotech & pharma companies can emerge as winners in a fast-moving industry
In this Expert View we talk to Bill Burke, CEO of our Partner, Merit Solutions about what key challenges he is experiencing currently in the biopharma and life science industry.
With Merit for Life Science and Microsoft, HSO now offers an industry-focused technology platform with the applications needed to meet the unique needs of biotechnology and medical device companies. Life science organisations across the UK can now benefit from secure, cloud-based solutions that improve procurement, production, inventory/warehousing and quality control, enabling them to deliver more innovative, effective and safer products to market.
The benefits of digital twins
A digital twin is a virtual/digital replica of physical objects such as devices, people, processes, or systems that help businesses to make model-driven decisions. The purpose of a digital twin is to run cost-effective simulations. They are used to control and monitor business processes remotely in an environment where there is little or no access, ie., in hazardous environments.
They are commonly used in manufacturing and provide benefits such as:
Lower maintenance costs via predictive maintenance
Improved productivity by up to 10% according to Gartner
Faster production times – by up to 30% according to IDC
Companies can even use digital twins to understand the feasibility of upcoming new products.
Maximise usage & tracking of assets and drive up revenue for your business
We are seeing our customers move away from purely selling a product, and moving towards servicing & supporting their products. Heavy and costly goods can be shared amongst multiple customers or over a period of time. This is particularly efficient as we become more aware of sustainability and the circular economy. Watch and find out how you can:
Build dashboards to clearly display your equipment and margins
Move towards usage/consumption driven billing using IoT data
Set up subscription based billing
Develop a pro-active maintenance based field service for your assets
Simplify the complex – Deliver accurate, dependable quotes every time
Experlogix software accelerates and optimises the quote to order process and removes all human error to digitise all manual processes. It can even recommend products to up-sell whilst the quote is building for your customer.
Find out how you can:
- Reduce the length of your sales cycle by up to 28%
- Achieve up to 49% higher proposal volume per sales representative per month
- Increase your average deal size by up to 105%
Real time, accurate planning… all on one screen
Customers demand fast and efficient deliveries which put productivity margins under pressure. This app provides real-time, accurate planning... all on one screen... optimising production changeover times to facilitate maintenance, combining anonymous production, To-Order assembly and more.
Dynamics 365 app add-ons to amplify your business
HSO Innovation is our ISV Department, responsible for developing apps on top of the Microsoft Ecosystem, enriching it with a variety of niche capabilities for manufacturing, service, rental, maintenance, and distribution companies. Find out how they can help to give your company a competitive edge.
Achieving compliance using modern software tools
We recently met with Stefan Staub, a Partner with DHC Consulting. DHC has been established for approximately 25 years, and specialises in working alongside pharmaceutical, life sciences and medical device manufacturing companies to help them obtain system validation and compliance.
Do you wish to keep learning?
More on Smart Factory of the Future