Youth Protection Brabant & Veilig Thuis Oost-Brabant
Discover how a well-structured adoption process facilitated the swift implementation of a new digital work environment, ensuring over 650 employees could work securely and effectively.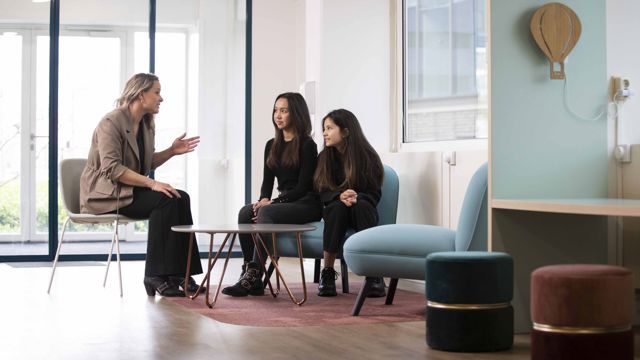 Structured Adoption Process Ensures Smooth Implementation of New Workplace
When major changes to the digital workplace and the replacement of 530 laptops and 500 phones were needed for employees at Jeugdbescherming (Youth Protection) Brabant and Veilig Thuis Oost-Brabant, a well-structured adoption process was essential. Motion10, an HSO company, provided support in this endeavor. With a structured pre-project of six months, a change strategy, pilot implementations, and continuous learning, the effective rollout was completed in seven weeks, allowing the entire organization to start using the new tools independently.
Safety Comes First
Jeugdbescherming Brabant focuses on children who need help to grow up safely, and Veilig Thuis provides advice and support for child abuse and domestic violence for all age groups. So, for the over 650 employees of these two organizations, their work is all about safety. They handle highly sensitive information, so working securely is of utmost importance.
Employees are often on the move, and in this line of work, it's vital to be reachable on location, especially in crisis situations. Having access to information on their work laptop and phone is essential for quick decision-making and action when needed.
Time for Change
To perform their work more effectively and securely, with an eye toward the future, Jeugdbescherming Brabant and Veilig Thuis Oost-Brabant decided it was time for a new digital work environment. This also meant replacing employees' work laptops and phones.
"In 2019, we switched to Microsoft 365, and during that rollout, our employees didn't receive enough support," says Monika Kooij, Communications Advisor at Jeugdbescherming Brabant. "This resulted in underutilization of what Microsoft 365 had to offer. Secure, user-friendly, and location-independent work couldn't be fully realized with the existing digital work environment, laptops, and phones, so we decided to make changes."
The existing work environment used by Jeugdbescherming Brabant and Veilig Thuis Oost-Brabant wasn't compatible with Microsoft Teams, which posed challenges in the era of hybrid work. Additionally, the login process was tedious, and employees had to physically come to the office every month to change their work application passwords and perform updates. This placed an extra burden on the internal support department in terms of password management.
Involving employees in the change
The chosen course of action would bring significant changes. A work environment had to be phased out, a full transition to Azure had to take place, everything had to be accessible in a secure environment with a single password, and 530 laptops and 500 phones had to be replaced. To properly support the change in work processes, a change trajectory was necessary.
Monika explains: "Our employees are primarily focused on working with people, and not all of them are equally tech-savvy. They were apprehensive about this technological change, especially given their high workload. The challenge was to make this transition as smooth as possible. Adoption needed to be handled differently this time."
The project was entrusted to an external technical partner, with Motion10, an HSO company, handling the change and adoption aspects and functional improvements with a focus on the usability of the SharePoint environment.
Involving Change and Adoption from the Beginning
Laura de Vos was involved in the planning phase as the Change Lead. Laura de Vos says, "In January 2022, we worked with Jeugdbescherming Brabant and Veilig Thuis Oost-Brabant to conduct an initial assessment. We collected a lot of valuable information from within the organization, creating a clear picture of how work was done and what improvements were desired. This was necessary to ensure that project objectives matched the employees' needs. With clear pillars derived from this information, we created a Change Plan."
From Change Plan to Adoption Process and Testing
Once the Change Plan was clear, the adoption process could start. Together with Jeugdbescherming Brabant and Veilig Thuis Oost-Brabant, Laura and her team organized various support activities leading up to the actual transition of the work environment, laptops, and phones. These activities took into account differences in employees' digital skills and their preferred learning methods.
Activities included progress updates, Q&A sessions, the redesign of the knowledge center, online knowledge sessions, and valuable input from ambassadors – employees who served as guides and acted as the organization's eyes and ears during the process. These efforts provided employees with a comprehensive understanding of what was about to happen.
Regarding the ambassadors, Laura says, "We conducted pilots on the technological changes together with the ambassadors to ensure everything went smoothly before the 650 employees got their hands on it. If the technological setup isn't aligned and tested for use, the adoption of the new workflow won't be successful."
"Our partner proactively contributed and worked in a structured manner. Based on their experience, they had answers to questions that were not yet apparent to us. This was very helpful for us."
The Rollout Moment
In September 2022, after two important pilots involving the new work environment, everything was ready to transition to an improved digital workspace in the cloud. Employees at Jeugdbescherming Brabant and Veilig Thuis Oost-Brabant received new laptops and phones.
Before transitioning to the new work environment, employees could sign up for a time slot and were divided into groups of three. Laura de Vos explains, "We chose to train small groups, meaning one guide for every three employees. We did this because individual guidance is essential when the level of digital proficiency varies among employees. There needed to be enough room for absorbing new information and asking questions."
"We continually reviewed our adoption program with the ambassadors within the organization."
In seven weeks, the entire organization transitioned
During their training sessions, employees received their new laptops and phones. In another room, training on using the new digital workspace began. Step by step, employees were introduced to their new work environment and were taught how to perform secure actions in the cloud. Personal accounts and network drives were migrated to OneDrive the evening before, so those files were unavailable for only a few hours.
With several sessions per day at locations in Den Bosch, Helmond, Tilburg, and Roosendaal, each group was guided one by one during a seven-week period. By November, everyone had the knowledge and tools to work effectively in the cloud.
Happy with Support and Resources
Monika Kooij describes how the rollout sessions went: "It all went very smoothly. Employees found the preparation and on-site support very enjoyable. Some were initially puzzled why the rollout session required an hour and a half, but in the end, they were very pleased with the support and resources they received before and after the session. Some employees, whose rollout sessions were scheduled later in the seven-week period, heard such positive feedback from colleagues who had transitioned earlier that they regretted not choosing an earlier time slot!"
Constant Focus on the End User
For successful adoption of significant changes, it's crucial to critically evaluate every choice and its impact on end users – in this case, the employees of Jeugdbescherming Brabant and Veilig Thuis Oost-Brabant. If something is deemed to have a negative impact on the adoption of new technology and practices, then a better solution must be found together. Because Jeugdbescherming Brabant and Veilig Thuis Oost-Brabant recognized this need, a good partnership could emerge with the technical supplier and Motion10, from which the end users are reaping the benefits.
Read more
About the Modern Workplace, Change and Adoption