Increased Efficiency and Job Satisfaction at Rutgers
Impressive Outcome for MotionTogether 2022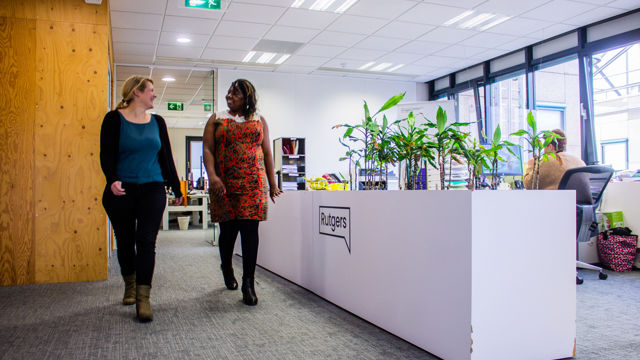 We are delighted and proud to introduce the MotionTogether project of 2022: the capacity planning and reporting tool for Rutgers. A dedicated team worked hard on this challenging CSR project for the last six months. The result, according to Marc Faber, Manager of Operations at Rutgers, is "more efficiency and job satisfaction, less frustration and workload. What a wonderful gift!"
Rutgers is an organization that promotes sexual health and rights for everyone worldwide. They conduct (inter)national research, share knowledge, and run campaigns, based on the principle that we all have control over our own sexuality. You might think their business operations are simple: they receive money from donors, and they use it to run projects. However, in reality, it's more complex. Donors have strict requirements for how the funds are allocated and reported. They specify hourly rates, set limits on travel expenses, and determine the percentage of sick leave that can be charged. Marc Faber explains, "We have to justify every expense down to the last penny. Each donor has their own rules. Considering that we have 50 to 60 projects every year, involving around 135 people assigned to various roles, you can see why we needed an automated system."
Getting More Control
To manage the capacity planning within the overall budget, thousands of emails used to go back and forth every year between program managers, line managers, and financial controllers, eventually resulting in a master Excel file for the annual plan. Then the huge puzzle of assigning the right (number of) employees to all projects and ensuring that each employee met their billable hours began. Every change was manually entered, and the effects of changes were communicated to program managers via email. Marc adds, "The workload in the Finance department was huge, and there were only two people at Rutgers managing the capacity Excel. That was too risky. We really wanted to get more control over this critical process and spend less time on administrative tasks."
"We really wanted to gain more control over this critical process."
The Power of Power Apps and Power BI
The MotionTogether team started with the huge variety of data. Marc explains, "All information about Rutgers employees was in People Inc.: roles, billing percentages, tasks, roles, and so on. In Exact, all data related to programs and projects was gathered, such as different donors, their donations, and the corresponding requirements, programs, projects, and their linked budgets. We imported all that input into a Dataverse environment and organized it in Power Platform. The result is a Power App for capacity planning and a Power BI for reporting."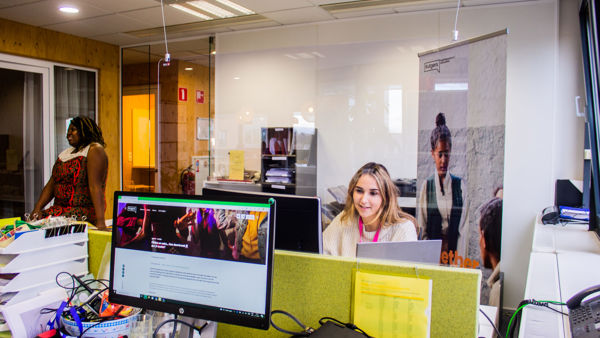 Clarity and confidence
In the Power App, program managers can view all programs, the underlying projects, and their respective budgets at a glance. They can determine the roles that need to be filled within the projects and assign employees accordingly. It also shows each employee's hourly rates, billing percentages, available hours, and more. If there are too many hours scheduled, an alert is triggered, and for each project, it's easy to see the remaining budget and whether there are any openings. Marc Faber says, "The hours app is a huge improvement for our program managers. In the old system, they often felt like they were driving in thick fog. Now, they instantly see the impact of every input. This gives them clarity and confidence, and it's also helpful for line managers who have real-time insight into their team members' capacity. Once a week, we manually transfer the data from the Power App to Synergy, so employees stay updated on the hours allocated per project."
Enhancing the Finance Environment
The automated capacity planning enables better reporting and forecasting. With Power BI, it's possible to generate reports and visualize data at any time. The overall view is available, but reporting can also be done at the level of programs, budgets, or employees. More insight with less effort, for all stakeholders: program managers, line managers, and the finance and control teams. Marc states, "This digital transformation will definitely reduce the workload for the finance department. The workload in that department is huge, especially because capacity planning was mostly manual, and control was tedious, with the risk of errors. Thanks to Motion10, an HSO company, we've been able to enhance our finance environment. I expect this will lower the workload and decrease turnover."
"Everyone realizes that this will save a lot of time and increase job satisfaction."
Sharing Experiences with NGOs
After the initial doubt at Rutgers about "another IT project," those involved are eager to start using the new platform fully. "Everyone realizes that this will save a lot of time and increase job satisfaction." According to Marc, many charities face the same complex situation regarding donors and capacity planning. "Once this system is running smoothly at Rutgers, we'll definitely share our experiences with other NGOs. I think this MotionTogether project can have a much wider impact than we originally thought when we applied last year!"
Read more
Customer stories in Non-Profit