Rapid Growth Through Acquisition
Why one insurance company's finance team chose Microsoft Dynamics 365 Finance ERP to tackle pro-forma reporting and multi-entity consolidations and didn't let COVID-19 get in the way of the implementation.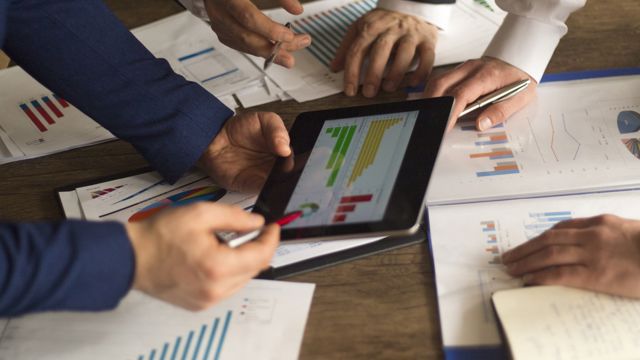 When your company has committed to an aggressive strategy and goals, you need to ensure everything is in place to facilitate it. Any obstacle could impact that strategy and needs to be removed. One of the largest insurance companies in the U.S., with $2 billion in placed premiums, 1,900 employees, and more than two dozen specialty practices, has a very aggressive growth-through-acquisition strategy. In just a few short years, acquisitions have accelerated from roughly six per year to 25, with the current rate of acquisition at one to two companies per month. That requires the ability to handle complex accounting.
Dynamics 365 Finance ERP supports financial management and enterprise accounting challenges
Multi-entity consolidations, pro-forma reporting… and an evolving growth strategy – anyone who knows accounting can appreciate the complexity of leading the finance department of a rapidly growing organization with such a diverse portfolio. The two primary areas the firm wanted to ensure were running like clockwork involved complex accounting processes, including consolidations and pro-forma reporting.
With so many companies being acquired throughout the year, pro-forma reporting became more and more critical. Because of legacy software, the current process for reporting was not efficient enough for the fast-paced growth of the firm. The fact that the various lines of business were so different from one another added another layer of complexity.
In addition to pro-forma reporting, managing consolidations of 25 entities (and growing) needed to be automated. The firm's business model has significantly broadened from investing in certain types of companies to capitalizing on a wider variety of opportunities regardless of the specialty—which they expect to continue. Because of this, the financial management software needed the flexibility to handle a moving and growing target.
Considering all these factors, the decision was made to move to a new finance ERP system.
"After seeing Dynamics in action, we were very comfortable with its ability to address all our challenges."
The Solution: Microsoft Dynamics 365 Finance (ERP)
Working with a major consulting organization, the firm considered other leading ERP platforms, but in the end chose Microsoft Dynamics 365 Finance (ERP) based on its flexibility, reliability, reporting capabilities, ability to integrate with business-critical software like SK Global, and strength of a foundation built on the Microsoft platform. "After seeing Dynamics in action, we were very comfortable with its ability to address all our challenges," said the firm's Chief Accounting Officer (CAO).
When it came to an implementation partner, Microsoft recommended HSO due to our reputation in the financial services industry. We not only understood the firm's complex accounting needs, but we knew Dynamics had the capabilities to meet them. We worked with the finance team to implement Dynamics and our Multi-Entity Financial Management for Financial Services to handle the firm's complex consolidation requirements.
Then COVID-19 happened...
The selection process went smoothly, and the firm was ready for a mid-March start to the project. Then the Coronavirus pandemic hit. Smartly, they already had many processes and people working remotely and were able to make only a few changes to be fully functional remotely. However, with this unprecedented situation, you would think that the obvious next step would be to stop the ERP initiative.
But proceeding with this project was never in question.
…but it didn't stop this company's plans – or growth
When we asked the firm's CAO why they elected to continue with the plan, her answer was simple: "Why wouldn't we?" The answer surprised us. We expected what most would expect: shut everything down until things stabilize. But this firm was intelligent and level-headed. Regardless of what was going on with the pandemic, their complex accounting requirements remained the same—and still needed to be addressed. The finance team still needed the tools and processes to keep pace with rapid growth.
The project needed to move forward as planned, so the next step was to focus on how to do it remotely.
The two teams worked together to determine how best to communicate and how often, using Microsoft Teams for meetings and discussions. The HSO team was already accustomed to planning and executing projects remotely (nearly 90 percent of HSO's employees have been working from home for years), so we were also confident that the process would work.
The project is still in progress, so the CAO can't yet speak to its success—but so far, so good. "We have been able to communicate as well remotely as we would have in person," she said. "At this point, if I had to do it again this way, I would not hesitate."
Poised for accelerated growth
With Microsoft Dynamics 365 as well as Power BI and HSO's Multi-Entity Financial Management solution in place, the firm will be perfectly positioned to manage complex accounting requirements and the accelerated growth they are sure to continue experiencing:
A scalable, financial management and ERP system will be able to support significant growth, both organic and through acquisitions, at a rapid pace and is equipped to support the current business model and adapt quickly to future changes in the business model.
With advanced multi-entity management, consolidations of over two dozen entities (and growing) will be exponentially faster and more efficient.
The new system will allow the firm to bring those acquisitions directly into Dynamics 365, streamlining time-consuming processes like consolidations.
And finally, the all-important need for pro-forma reporting will be in place, increasing transparency across the entire organization.
Microsoft Dynamics 365: A catalyst for any growth strategy
Watch this video featuring the CFO of Unit Trust Corporation (UTC) on how his financial services firm simplified a complex consolidation process for multiple legal entities with HSO's Dynamics advantage for multi-entity financial management.
Learn more about ERP solutions for Financial Services firms
Contact us
Interested in learning more about how Microsoft can help your firm deal with complex accounting needs? Contact our financial services experts to discuss your challenges and goals.