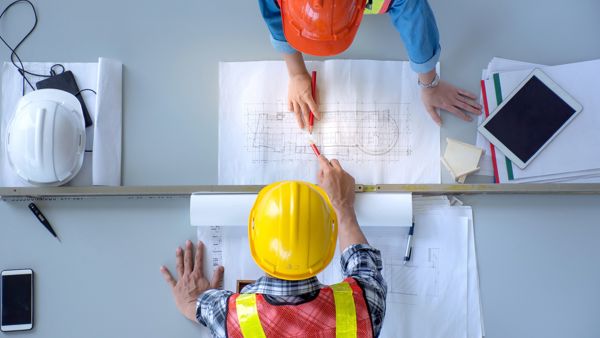 Why aec360 is uniquely qualified to address the needs of AEC firms

Hana Huber
AEC firms need solutions tailor-made for the industry. aec360 leverages Microsoft technology to tackle big challenges, from tapping into relationships to gaining project visibility to streamlining finance and HR...and HSO has the experience and know-how to put that technology to work.
1. Designed specifically for AEC because we know AEC
Much like your firm focuses on your respective disciplines, our aec360 team exclusively supports architecture, engineering, and construction firms. Our years of experience within the AEC space has given us unmatched insight into the challenges you face every day – and the best ways to address them.
Our longstanding partnership with Microsoft, combined with our knowledge of the AEC industry, enables us to develop, implement, and maintain technology strategies that can truly transform the way your firm does business.
2. Built for the cloud
The right tool to tackle complex tasks is often one that was purpose-built for the job. aec360 is a specialized solution developed specifically to meet the unique needs of AEC firms. Leveraging the power of Microsoft Dynamics 365, aec360 integrates all of your firm's key business areas to help you find and win more work, effectively deliver your projects, confidently manage your finances, and find and retain the best possible talent.
aec360 offers the following benefits:
The most complete, integrated suite for AEC firms. aec360 is the industry's only single-vendor platform that combines CRM + ERP + HR + Productivity + BI into one suite. With aec360, you have the power to drive innovation across the value chain while maximizing efficiencies and insights.
The best of both worlds. With aec360, you no longer need to choose between an industry solution that forces you to do things their way and a broader platform that doesn't understand AEC. You get a proven, best-of-breed, cloud technology and application platform.
The best of Microsoft. aec360 is made even more powerful with Microsoft technology. Native Azure service, Power Platform integration, and embedded Office 365 productivity tools, LinkedIn relationship insights, and Power BI insights help you modernize operations, adopt intelligent automation capabilities, deliver real-time performance insights, and connect your entire firm – accelerating the impact of digital transformation.
A future-proof platform. With Microsoft and decades of AEC experience as its foundation, aec360 will take your firm well into the future. You're backed by Microsoft's commitment of a $19 billion R&D budget, a highly scalable solution used by thousands of companies worldwide, continuous innovation like next-gen AI, RPA, and bots, and Microsoft's Power Platform, which makes it easy to address your unique and new requirements as you grow and market conditions change.
3. Platform-first (and why that matters)
Microsoft has taken a revolutionary approach to digital transformation. We're on board…and you should be, too. This "platform-first" approach leverages Microsoft's Power Platform (Power Apps, Power Automate, Power BI, and more) to help you drive improvements in your business performance by leveraging the power and innovation of the Microsoft cloud.
We've been working with the Power Platform for many years and have seen what it can do to accelerate end-to-end transformation. With a platform-first approach, you can take advantage of integrated solutions that can help you replace legacy applications and point solutions throughout your organization faster and more cost-effectively.
4. Backed by a partner that's large enough to serve but small enough to care ... and one with strong Microsoft ties
Since 1987, we've measured our success on the success of our clients. We are a global partner with all the benefits that come with it, but we see ourselves as "small enough to care." We never forget why we're here—to drive improvements in our clients' business performance by leveraging the power of technology. Unlike traditional solution integrators, we are agile and industry-focused, which keeps us grounded. We understand your unique challenges and how to surmount them to take advantage of changing technology and market landscapes.
But there's more to HSO. While we are small enough to care, we still have the power of a global partner. We offer:
International global delivery capabilities. With a proven global delivery methodology and offices around the world, we can deliver consistent, high-quality implementations worldwide, accelerating transformation for multi-national companies at an affordable cost point and with predictable outcomes.
24/7 global managed services. Our team of experts can support your current core business systems while working proactively with you on initiatives like upgrades, migrations, and continuous process improvement that will secure your success down the road.
And then there's our status as Microsoft partner. An 11-time Microsoft Partner of the Year, member of Microsoft's elite Inner Circle, and one of just 25 Microsoft Managed Global ISV partners in the world, our relationship with Microsoft has played a key role in our ability to guide many of the preeminent AEC firms through their digital transformation.
We are a Microsoft Gold Certified Partner—representing the highest level of expertise and a proven and specialized skill set in a particular technology or service area.
Since 2002, we have also achieved Azure Expert Managed Service Provider (MSP) status from Microsoft. This status is reserved for Microsoft partners that have proven exceptional proficiency and skills in cloud competencies and capabilities in helping customers navigate the cloud landscape efficiently across Azure services.
As importantly, our close relationship with Microsoft affords us the unique opportunity to speak directly with their leadership about product development roadmaps and work directly with their technical experts on support issues.
When you work with HSO, you also have Microsoft in your corner.
"Not only was the cost of the Microsoft solution less than the alternatives, but the industry expertise of HSO with their aec360 solution was a major difference-maker. We didn't have to teach them what's unique about our industry, so we were able to hit the ground running and save significant time and money."