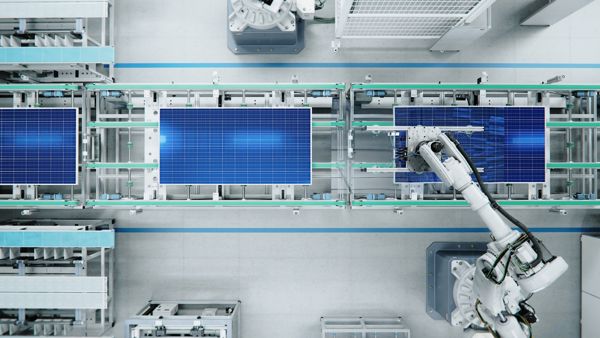 Microsoft Cloud for Manufacturing - How it will transform the industry
With new Microsoft Cloud for Manufacturing, you will find: Productivity, Knowledge Management, Service, Supply Chain Visibility, and more.
In the last 18 months, the business world has witnessed incredible volatility. From shifting customer demands, supply chain gaps and workforce shortages, to remote working and employee safety, the manufacturing industry was one of the most disrupted.
Manufacturers who were quick to identify and adapt to these changes have faired far better.  Because of this, more and more companies are realising the urgent need to accelerate their digital strategy. According to Microsoft research on 5 manufacturing trends driving the need for an industry cloud, 62 percent of manufacturers are forging ahead with their smart manufacturing investments, increasing by 20 percent this year alone.
The Fourth Industrial Revolution is No Longer Hype
If the pandemic has taught us anything, it is that the old ways of doing business will no longer suffice. As traditional markets are being disrupted and turned upside down by supply chain delays, new markets are being established, and the competition – always fierce – is intensifying. Machine learning, remote assist, digital twinning and AI/AR technologies are no longer just hype, they're the difference between surviving and thriving.
Introducing Microsoft Cloud for Manufacturing
As the manufacturing sector grapples with its greatest transformation, it's critical that businesses are equipped with a technology platform that is integrated, intelligent, user-friendly, scalable and secure.
Unveiled at Microsoft Ignite 2021 recently, the latest features of Microsoft Cloud for Manufacturing are accelerating digital transformation in manufacturing in an end-to-end, holistic, and scalable way. By connecting intelligent, integrated cloud, and edge capabilities of the Microsoft stack to the highest value manufacturing scenarios, businesses can increase asset and frontline worker productivity in safe and secure factories. This enables remote selling, always-on customer service, and the unlocking of cloud-based innovation.
Key Benefits for Manufacturers
By providing organisations of all sizes with the right tools to manage their supply chain, finances and operations, along with support for customer relationships from a single application, manufacturers can gain complete control and full visibility across all areas of their business.
Microsoft Cloud for Manufacturing, contains: Asset Productivity, Learning and Knowledge Management, Always-on-Service, Supply Chain Visibility, and more.
As many manufacturers continue to struggle with supply chain shortages, Supply Chain Visibility capability is a huge asset. Here, manufacturers can create a digital supply chain twin, a digital representation of the physical supply chain to predict disruptions and proactively overcome them. In the event of a global disruption, manufacturers can analyse both upstream and downstream impact, perform simulations and model scenarios at scale to determine the best resolution and then automate their response.
Key benefits for manufacturers
Following are the key benefits for manufacturers, explained with video.
Benefit 1: Asset Production
To a manufacturing company, unexpected downtime can mean millions in lost revenue. With Microsoft Cloud for Manufacturing, companies have secure access to their distributed assets, allowing for predictive maintenance and increased asset productivity.
Benefit 2: Learning & Knowledge Management
The workforce of a manufacturing company requires support and development to help them operate at peak efficiency. With Microsoft Cloud for Manufacturing, manufacturers can quickly educate and empower their employees, giving them the tools to achieve at the highest level possible.
Benefit 3: Reliable Always-On Customer Service
In manufacturing reliable, always on customer service is a requirement. With Microsoft Cloud for Manufacturing companies can predict, detect, and resolve issues before their customers even know there's a problem.
Voordeel 4: Global Supply Chain Visibility
The global supply chain is complex and interconnected. Sudden disruptions around the world are exposing vulnerabilities, and challenging organisations to plan for shifts in customer demand. With Microsoft Cloud for Manufacturing, businesses can unify real-time data, proactively mitigate risk, and better understand the impact of their decisions.
Flexibility to Build & Innovate As You Grow
According to recent research carried out by McKinsey, lack of funding is still being considered the biggest constraint in the perceived challenges facing all Industry 4.0 initiatives. Which is why at HSO, we're so excited that Microsoft Cloud for Manufacturing offers a modular framework where manufacturers can start small and build as they go. Because few companies have the budget or infrastructure to "rip and replace," the solution is designed to provide manufacturers with flexibility and control. And with an experienced implementation partner like HSO to help guide them along the way, they can prioritise the capabilities they need to address their most pressing business needs first, and develop a plan for change, and growth over time.