How Zenus Bank Is Revolutionizing International Digital Banking with Vision Backed by Technology
Commitment to social and financial inclusion through financial services that meet banking needs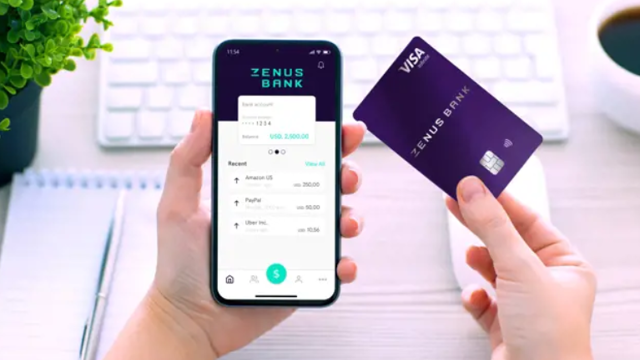 As globalization drives cross-border trade and international lifestyles, the financial services industry is evolving to support it. But while developed markets are advancing rapidly, less mature countries don't have access to those advanced financial products and services. The US banking system is one example; individuals and businesses in emerging economies want and need those services but opening a US bank account has been a costly and time-consuming process for non-residents. Now, the power of cloud computing, coupled with more accessible data, is helping banks like Zenus Bank overcome these regulatory challenges.
A digital, full-service, US bank, Zenus Bank opened its doors in 2019 with a commitment to social and financial inclusion through financial services that meet banking needs while improving quality of life, regardless of geography. As an official signatory of the UN Principles for Responsible Banking, Zenus Bank helps individuals and companies of all sizes around the world access modern, transparent banking services, enabling them to compete on a level playing field, build businesses, and create sustainable wealth.
Video: Breaking down barriers to international banking
To break down the barriers to international banking, the founders of Zenus had to think differently. They needed to take the concept of digital banking up—way up—while maintaining banking standards. By providing a cross-platform digital foundation supported by state-of-the-art technologies in the front- and back-end and leveraging artificial intelligence and machine learning, the company delivers an intelligent digital user experience across borders.
Since pioneering a revolutionary, next-gen banking platform and launching its Personal account services in 2020, Zenus Bank has grown exponentially, doing business in over 130 countries. It became the first International Financial Entity to become a Principal Member of Visa, the world's leader in digital payments, and is listed in 150 Apple Store and Google Play markets.
But that's just the beginning of the story.
Vision + data + technology = smart innovation
What sets Zenus Bank apart from many companies, particularly in the banking sector, is that it has had a vision driven by technology from the start. In fact, the company was recently named a US CIO 100 award winner in 2022 for driving digital business growth through technology innovation. But there was more to be done, and the leadership team was not afraid of doing things differently—as long as "different" was done right.
Zenus Bank's vision is a replicable model—including business-to-business and business-to-business-to-consumer services—which will catapult its customer base well into the millions. That anticipated growth, along with continuing to meet the needs and demands of existing customers, required a strong technology infrastructure that was maintainable, supportable, and seamless, globally scalable, and could easily pivot to support new markets and offerings.
"We built a framework that solves a major bottleneck in cross-border payments and international banking, enabling individuals from all over the world to bank safely within the American banking system," said Mushegh Tovmasyan, Chairman & Founder of Zenus Bank. "The next step is to optimize our services for B2B and B2B2C enablement around the world. We need to be prepared to scale into millions of users with each client we onboard."
A Microsoft platform has been in place from the beginning. "What sets us apart is our unique offering but also our focus on operational excellence in IT, so Microsoft was the obvious choice," said Pedro Martinez, Chief Information Officer. "It offers a blank canvas to design our products and their native tools help us with the omnichannel experience we strive to provide our users and developers. As a result, we're able to focus on the product and whatever the customer wants."
But there was more to be done to be ready for serious growth. Like most companies today, Zenus Bank did not have a problem with creating data, but managing it was a big challenge. In just a short time, data had become siloed, making it difficult to measure anything. While there were opportunities for technology to improve processes and the like, data was the key to innovation.
"We chose Microsoft and HSO to ensure our technology architecture would have the ability to support and scale."
The right partner to make the vision a reality
A partner was needed to help build out the infrastructure, and Microsoft recommended HSO. As a global Microsoft Dynamics Partner, we had the capabilities and resources to work as one unified company on projects anywhere on the technology spectrum, anywhere around the world, and with 20+ years in the financial sector, we understood business processes and the regulatory landscape.
Our teams worked together to build a platform based on data—a data lake that enables Zenus Bank to process, manage, view, report, and analyze data in any way they want. It is also built to support millions of transactions and millions of customers.
The infrastructure is rounded out by Microsoft Dynamics 365 Customer Service, Dynamics 365 Sales, Dynamics 365 Finance, and Dynamics 365 Marketing, as well as Power BI, the Power Platform, and Microsoft 365 to support data, unified operations, a customer service call center, marketing, and sales.
"Our approach uniquely combines an international banking license with the latest technology and a robust approach to risk and regulatory control to create truly global digital bank, so having the right technology partners is fundamental to us," continued Tovmasyan. "It was for this reason that we chose Microsoft and HSO to … ensure our technology architecture would have the ability to support and scale with what is sure to be exponential growth."
Ready for growth … and more
The result of our work together is a truly scalable technology infrastructure supporting a vision for growth and new markets. With expert leadership, a customer-centric business model, and vision fueled by technology and imagination, Zenus Bank broke the boundaries of banking without breaking the rules.
learn more
Read more about how HSO supports Banks