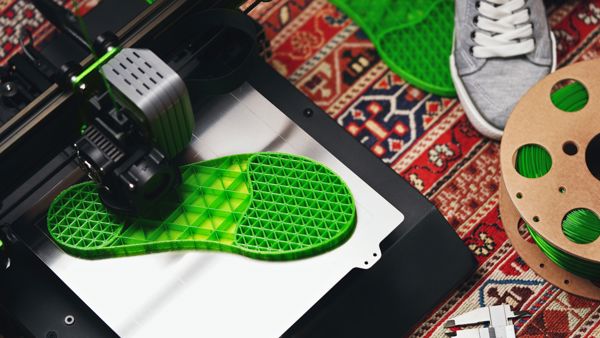 D2C eCommerce in Manufacturing:
How a Direct-to-Consumer model powers manufacturing
Introduction
In a study held by Net Solutions, they found that the business-to-business (B2B) market monitors the success in the business-to-customer (B2C) market and tries to replicate their growth strategies by adapting them to the B2B market. One part being the direct sale to customers – a business model known as Direct-to-Consumer (D2C) that is getting more and more popular, especially among manufacturers. Thus, go-to-market strategies are changing the traditional manufacturing industry.
D2C business models allow manufacturers to experiment with sales strategies and revenue opportunities that have never been accessible before in the industry. And why is this change happening now? Because the manufacturing industry needs to become accustomed to external changes and the mounting expectations of modern consumers.
Today, customers expect to go directly to the source when researching products and services, or when making a purchase from a specific brand. According to Forbes, B2B buyers have already done 12 online searches and are 57% of the way through the sales funnel before they start an actual sales conversation. In addition, a survey by Salesforce of 6,700+ customers and business buyers globally and found that 76% of consumers expect companies to understand their needs and expectations.
The research shows that understanding customers' needs — and exceeding their expectations — are becoming table stakes for businesses to compete.
In terms of giving the customers what they expect, it makes sense for manufacturers to at least consider going D2C. When selling directly to consumers, manufacturers gain a better understanding of their customers' needs, they get more control over their brand, and they attain more freedom to innovate.
In this white paper, we will cover D2C eCommerce for manufacturers, the benefits and challenges, key considerations and how to get started. If you are curious or considering this model for your manufacturing business, be sure to read on to the end.
76%of consumers expect companies to understand their needs and expectations
What is D2C?
The D2C business model enables manufacturers to sell their products and services to consumers directly without the assistance of distributors, retailers, or any other type of middleman. Hence, the manufacturer takes responsibility for all things retail-related within the business in addition to their traditional manufacturing and fulfillment responsibilities.
Simply put, the D2C approach disrupts the traditional model entirely, with manufacturers "cutting out" the retail middleman and selling straight to the customer.
Traditional manufacturing vs. D2C
The most obvious difference between the way a "traditional" manufacturer and a D2C manufacturer operates is that D2C companies take full control and ownership of the whole customer experience.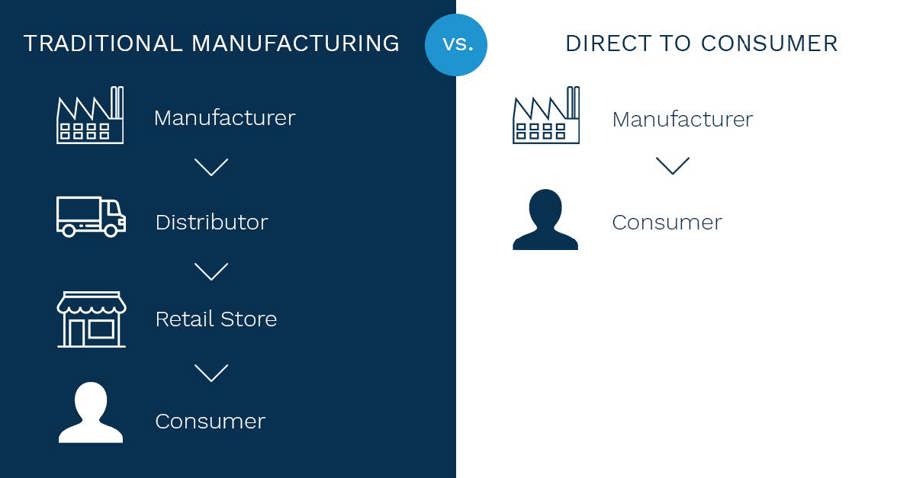 Why do brands adopt D2C?
Adopting a D2C business model is all about supporting individual customer experiences. Different sales approaches and business models can accommodate each other and increase profit and sales for everyone. But, with a D2C approach, a major benefit is that the manufacturer gets full control of the customer experience.
The manufacturer gains the ability to control the customer journey, from the first online product search to the customer receiving the product and potential customer support afterwards. Hence, a manufacturer gets the opportunity to build a unified product experience on every touchpoint of the customer's journey.
Manufacturers have already begun to cut the middleman, the distributor, or the retailer out of the supply chain.
In 2019, over a third of B2B consumers purchased directly from a manufacturer's website (stating convenience, product quality, and shipping as primary motivators).
With the recent worldwide pandemic, it has become clear that many brands working traditionally experienced a significant downturn. Businesses that want to survive are being forced to adapt to new realities where the consumer is turning to online shopping more readily.
The benefits of D2C
Besides the obvious benefit of earning higher margins because manufacturers are not working with retailers, there are other notable benefits of selling D2C. In the following sections, we will examine some of the benefits of D2C for manufacturers.
Customer insights and omnichannel experience
Before the D2C approach, manufacturers rarely interacted with the people who purchased their products. Going D2C, manufacturers gain direct insights into their customers and gather data that reflects their behavior one-to- one. It empowers the manufacturers to control the customer experience from A-to-Z, everything from images to products – the whole online experience.
PwC's experience research concludes that 73% of all people point to customer experience as an important factor in their purchasing decisions. And among U.S. customers, 65% find a positive experience with a brand to be more influential than great advertising. Forrester Research found that 76% of manufacturers surveyed reported that selling direct to consumers improved their customer experience.
Control brand awareness and build strong customer relationships
The D2C business model allows companies to have a direct influence on how their brand communicates with its customers. However, risks may also be associated with managing marketing and sales responsibilities.
When engaging directly with customers, manufacturers are better suited to present their brand story in exactly the way they want to. Other findings from the Forrester Research concluded that nearly 50% of manufacturers said that D2C sales helped to improve brand awareness.
As a result of D2C, customer insights and the control brand awareness are now available for manufacturers. This gives them a better understanding of their customers and enables them to deliver a greater customer experience. Positive customer experience is a solid foundation to maintain and develop a strong customer relationship.
Essentially, the stronger relationship you build with customers, the more likely they will return for more. According to Forrester, more than 84% of manufacturers surveyed said selling directly to consumers improved their customer relationships. Thus, implementing a D2C strategy, manufacturers invest in their future growth and revenue.
Increase sales and revenue growth
In addition to taking control of the customer experience, data insights from having a direct relationship with consumers are invaluable. With data revealing customers' behavior, manufacturers can personalize and target all marketing activities. This control influences the sales process and will ultimately allow the company to fine- tune the conversion funnel and drive more sales.
Moreover, going D2C can help to accelerate the expansion of a global audience reach – with the right eCommerce setup, a D2C sales strategy and a comprehensive digital marketing effort, worldwide buyers are only a click away. Thus, by focusing on the right digital practices, manufacturers can create long-term value. Research by McKinsey & Co shows that B2B digital leaders drive 5x times more revenue growth than their peers.
By the numbers
Recent data from Forrester Research tells the story:
82%

of manufacturers say selling D2C improved their customer relationships.

76%

of manufacturers report that selling D2C improved their customer experience.

50%

of manufacturers say that D2C sales have increased their brand awareness.
The challenges of D2C
In recent years, B2B customers have started to hold higher expectations. The Salesforce State of the Connected Customer study found that 84% of B2B buyers say the experience is as important as the products and services the business offers. In addition, the buyer's journey often starts online and according to Forbes B2B buyers have completed more than 57% of the sales funnel online.
Thus, companies will face challenges in the digital transformation in order to meet the expectation of their modern B2B buyers. In this chapter, we will examine some of the challenges when going D2C.
Technical excellence
Today, customers not only want to have products of high quality at affordable prices, but they also want to have products tailored to their needs. This causes significant pressure on businesses to provide an outstanding cus- tomer experience.
Hence, it is obviously not enough for manufacturers to make superficial changes to their website. B2B businesses, like their B2C counterparts, need to be aware of the breadth of the customer journey particularly because it is more complex and includes more than one decision-maker. The typical buying group for a complex B2B solution involves six to 10 decision makers' each armed with four or five pieces of information they've gathered independently which they then must try to reach an agreement on. According to Gartner, 77% of B2B buyers state that their latest purchase was very complex or difficult.
To overcome this challenge, it requires a mature eCommerce solution that fits the manufacturing industry and meets the requirements of its consumers. At Dynamicweb we offer a cloud-based eCommerce Suite for manufacturing.
Resources – sales, marketing and services
To take on a D2C approach means change is coming. And with that new resources and new fields of responsibilities. For instance, you'll need a marketing department to launch digital marketing initiatives that operationalize the unified customer experience across all channels. A service department to manage customer support. A sales department oriented to the end-user segment. And in continuation of the technical excellence, an in-house development and support department is often recommended.
While these are valid concerns, they can easily be navigated by implementing an industry-recognized all-in-one eCommerce solution, such as Dynamicweb.
New competitors and new marketplaces
As mentioned before, D2C strategies drastically influence the traditional manufacturing industry. With the entry of D2C in manufacturing arises a new battlefield for winning customers. For instance, when cutting out the middlemen – e.g., the distributors or the retailers – they may become your new competitors.
Moreover, global marketplaces like Amazon keep scaling across industries. These online marketplaces are a new way to connect with consumers directly. To benefit from a marketplace, you need to focus on your Product Information Management (PIM) that enables you to easily distribute your products to other channels. With the right PIM solution and connectors, marketplaces are an opportunity for manufacturers to reach their consumers easily and to activate an additional sales channel.
5 key D2C considerations for manufacturers
Moving a traditional manufacturing business to a D2C approach is going to be a huge change and it needs careful planning. Thus, there are several things to consider before embarking on a D2C strategy. For instance, do you have all the necessary resources available, and is your infrastructure capable of supporting the strategy change? In the following, we will discuss five key considerations for manufacturers.
1. Critical infrastructure to support D2C strategies
D2C strategies require significant technical infrastructure for success. The most obvious of which is an eCommerce system designed for the end customer. On its own, however, the system will not deliver the insights required to power corporate decision-making. For this, there is a need to integrate a customer data platform that supports the whole customer experience.
2. Critical customer expectations: The Amazon effect
Amazon's business model is affecting virtually every stage of the manufacturing go-to-market strategy. Customers expect a short delivery time, which drastically pressures the supply chain. This also changes the service expectations of consumers. One element of the Amazon effect is that customers are demanding more transparency from vendors throughout the supply chain - for instance, track & trace systems that can send detailed updates in real time.
3. Critical customer experience features
Meeting customers' expectations of how a manufacturer's website and buying process should look and feel requires unique features that support how they gather and interact with information.
4. Seamless integration framework
Your frontend website must integrate seamlessly with backend systems that include everything needed to manage your warehouse and orders, processes, and payments, and prevent fraud. When selling D2C, your focus will shift from retailers/distributor relationships to fulfilling orders for customers and you'll need the technology to support those types of experiences.
5. Implementation and integration
Selecting the right technology to support your D2C initiative is just the first step. Getting them up and running and working together is the next step. You have invested in technology to support your broader business, so integration with the new method of selling is critical. Remember, consumers want a relationship with brands, and if you build it, they will come.
More than 50% of consumers have intent to purchase when they visit a manufacturer's website.
Getting started
Going D2C comes with a lot of questions as you shift focus away from a strictly B2B model. It is essential to find and adopt the right tools that can help achieve a D2C omnichannel model. As a brand manufacturer, you should be searching for solutions that can help you achieve the direct selling method, while also having all the features that can help you run your manufacturing business. Read on for tips on how and what it takes to establish a D2C eCommerce site.
Turnkey solutions for manufacturers
A D2C eCommerce site is more than just another method to sell products. It boosts brand awareness, drives growth, increases revenue, and transforms experiences.
When transforming a manufacturing business into a direct customer-facing brand, you need to constantly keep your customers satisfied and making repeat purchases — and that means ensuring their journeys are personal, connected, and relevant. To be able to provide a remarkable experience and make your customers want to continue doing business with you, a truly seamless end-to-end platform is the answer.
Some software solutions, like Dynamicweb's cloud- based all-in-one platform, offer a turnkey solution meaning a rapid implementation and low risk. Hence, an implementation process does not need to be lengthy or expensive. In addition, you can also get a free online trial to experience the look and feel and understand how and why a solution that combines all the tools needed are essential for a D2C manufacturing eCommerce site.
Conclusion
It is not hard to understand why the D2C model is becoming increasingly popular. Consumers are now looking for personalized shopping experiences that are convenient and digital. This demand has not gone unnoticed across markets and industries, including manufacturers, around the globe. Making the transition to a D2C model allows manufacturers to have more control over the customer experience and foster long-term relationships directly with their customers. If done right, this margin-friendly business model can result in more revenue and more opportunities.
However, it is not an easy decision for a traditional manufacturing business to start utilizing a D2C business model. You will need a thorough analysis and action plan.
If you are just starting your business – or planning a digital transformation - and still have not decided which model to use, then D2C is one to consider very seriously.
Continue Your Journey
Have More Control Over the Customer Experience and Foster Long-Term Relationships
Contact us
Want to know more? Contact us and let us help you get the most from your omnichannel presence.