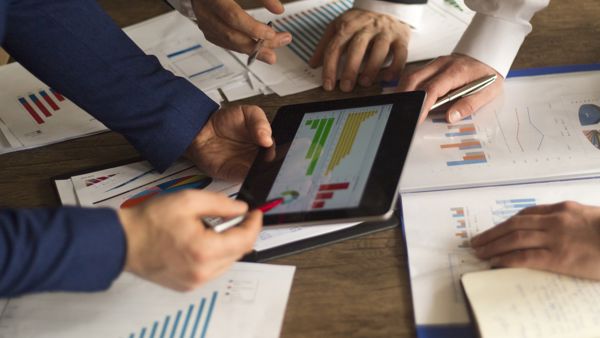 Challenge Accepted: Enhance the Impact of CRM
on a $2Tr AUM Global Asset Management Firm with Data Transfer Using Microsoft Power Platform and Dynamics 365
A cloud transformation using Microsoft Dynamics 365, shared by the project management expert who oversaw its success
At HSO, we believe that technology, and the expert technical consultants that implement it, can help businesses overcome any challenge. Our talented team possesses the technical aptitude and attention to detail needed to guide clients through even the most unique situations.
In this Challenge Accepted interview, you'll hear from Alexis Bertrand from the HSO project management team discuss how one client was able to overcome the significant challenges of consolidating business-critical data following a major acquisition with expert data transfer services.
"These projects really become personal to me - each one is kind of like my baby"
Alexis Bertrand on how Dynamics 365 and the Power Platform helped a global asset management firm
As a project manager, I know that building trust with HSO's clients is critical to the success of our relationships. Being as transparent and open with our clients helps to build that trust. I focus on sharing whatever information I can and getting out in front of things before they become issues. I think my technical background and experience in multiple roles with HSO allow me to see a project from all sides – most importantly our clients' perspective – and take each of those points of view into account as we work through the project.
Our clients come to us with unique and pressing challenges. Being able to help them solve those challenges is incredibly rewarding, especially as we build personal working relationships with the people there.
Challenge Accepted: Transform CRM with data transfer and integration from all firms
HSO's Vice President of Financial Services Tom Berger talks to Alexis Bertant, a Dynamics CRM Project Manager, about what she does for HSO, what motivates her every day, and work she has done for one of HSO's biggest clients
The Business Challenge: Modernize an existing CRM solution to enable data transfer and syncing across multiple organizations
Recently, one of our global financial services clients acquired another firm. Acquisitions present several challenges, including integrating employees, assets, and software platforms. One of the most challenging – and often overlooked – parts of any large acquisition is making the data from the two organizations play nicely together. Regardless of the size of the companies, or how much data they each have, it really is a much larger project than somebody would think.
Our client faced additional data challenges because the firm they acquired relied on CRM for a wide range of functions, including operations, marketing, legal and more. Our client primarily used CRM as a sales tool. This meant that we needed to sync up roles and functionality in addition to the data itself.
There were a lot of question marks related to other systems and teams and workflows, that we needed to solve for to make sure we kept those whole and didn't impact them in any way.
The firm was working on a strict deadline to make sure that employees had the necessary access to this data. We needed to act quickly, while also ensuring that all aspects of the challenge were solved, both in the short term and into the future. This was not a situation where a band-aid type of solution would work.
Challenge Accepted: Embrace the cloud to transform the client's CRM platform with data transfer and integration from all firms
Challenge Accepted Financial Services To sync data and functionality from the newly acquired organization with the firm's legacy system, we had to make some sweeping changes. The firm's premise-based CRM system was clunky and outdated, so our first step was to move the existing environment to the cloud. This gave us the added flexibility and functionality needed to tackle the data migration and to deploy the exact capabilities the firm required. In addition, since the firm maintains staff across the globe, the move to the cloud made it easier to provide reliable access to crucial data wherever a sales rep or financial advisor was located.
With the CRM system updated and optimized, we leveraged Power Apps, part of the Microsoft Power Platform, to build some of the key capabilities and integrations needed to give employees access to the necessary data. The result is a fully customized Dynamics 365 deployment that gives the firm total control over their data while supporting various organizational roles and responsibilities.
"These projects really become personal to me – each one is kind of like my baby. We put a lot into making sure we get them right."
The Business Outcome: A success story based on innovative thinking and communication
Helping our client solve this unique business challenge required clear communication. We needed to know exactly what their requirements were, what their goals were, and what success looked like for them. Once we clearly understood the requirements, we needed to think creatively to solve them as quickly as the firm needed. We relied heavily on the Power Platform to create the specialized applications and processes needed to sync data, enable functionality and optimize their CRM environment.
It's also important to note that we didn't just create applications for our firm; we also helped their staff learn how to leverage Power Platform internally to develop their own applications. This will be helpful as they evolve and identify new requirements.
To fulfill the firm's immediate needs and get them over to the new system by their deadline, without losing data integrity was a big win for everyone involved. This is an ongoing project, due mostly to the scale of the data involved. With the foundation and relationship we've already built, there should be nothing but success for us in the future.
learn more
See how we've helped firms like your leverage technology to support true transformation