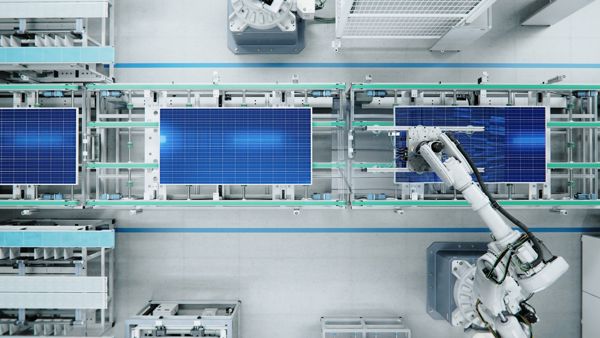 4 trends that are driving the future of Modern Manufacturing

Brenda Somich
Like many industries, the manufacturing industry continues to undergo significant evolution. Rapid advancements in technology and automation solutions have led to the rise of "smart factories" driven by intelligent machines and software. These advanced factories enable manufacturers around the globe to produce more inventory, at higher quality, in less time and at a lower cost.
Our Predictions
Here are our informed predictions about what the factory of the future will look like.
Data will become the most invaluable resource for future manufacturing operations

The factory of the future will rely heavily on intelligence, both in terms of physical technology and the software driving it.

Machine learning will become a critical component of future manufacturing efforts, as data becomes the key driver for many facets of operations. Machine learning and data will provide invaluable insights that manufacturers can leverage to evaluate product designs, improve processes, predict demand and drive operational and financial gains.

The Industrial Internet of Things will play a critical role in manufacturing evolution

The Industrial Internet of Things, or IIoT, uses intelligent robotics to improve production and reduce human interaction in the manufacturing process. The IIoT will help drive efficiency across all aspects of manufacturing operations by connecting devices and integrating intelligence gathering where it previously wasn't possible.

By communicating with and learning from each other, smart manufacturing machines will enable manufacturers to automate processes and generate actionable insights based on real-time operations.

Flexible and mobile facilities will become the norm

To meet changing demand, the factory of the future will be highly flexible and scalable. Rather than being confined to a single dedicated production line or physical location, the factory of the future will focus on diverse capabilities and innovative construction.

Speed, agility and a refined, more integrated supply chain will become the main drivers during facilities and operations planning, with data driving the decision-making process.

The factory of the future is closer than you may think

When we talk about the future of manufacturing, we aren't talking about 50 years from now, or even 5 years from now. The future of manufacturing is happening right now. In fact, according to CapGemini, 76 percent of manufacturers have either already implemented a smart factory initiative or are working on formulating a plan.

For example, many manufacturers are already using analytics to improve customer satisfaction, revamp processes and redesign or customize their products. Others have made significant investments into robotics and manufacturing automation solutions to improve workflows and increase operational efficiency.

Early adopters of smart manufacturing initiatives have already reported increased efficiency, fewer product defects and significant gains in customer satisfaction. Truly, manufacturers who have yet to take steps towards implementing these improvements may find themselves playing catchup as the pace of evolution accelerates.
HSO can help you propel your manufacturing operations into the future
While the factory of the future will rely heavily on physical technology like robotics, the software connecting the technology will play just as crucial a role. HSO can help you develop and implement a digital transformation plan to propel your operations into the future. As a top Microsoft partner, we can help you address all aspects of your operation, including ERP, supply chain management, smart maintenance, cloud application development and more.
On-Demand Webcast: How the Microsoft Cloud is Modernizing Manufacturing
Dive deeper
More on Manufacturing