Azure Managed Services: 
Run & optimize your environment
HSO Managed Services for Microsoft Azure provides daily operational support of compute, storage and virtual network infrastructure in Azure. We strive to minimize administration efforts on your side, keep your Azure bills reasonable, and provide you with total transparency over the service we deliver.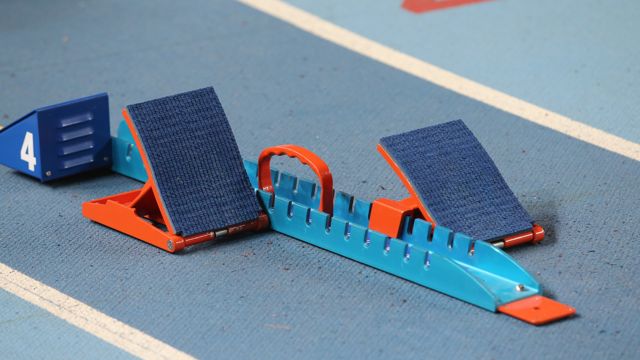 Our Azure Managed Services are designed to ensure the continuous operation of business-critical applications and systems by fully managing the Azure platform. We proactively manage the environment to optimize it for success. Our Managed Services operate 24×7 with on-duty and on-call engineers available to oversee the automated processes and provide assistance as required.
Success Plan for Azure Managed Services
Our HSO Success Plan for Azure Managed Services consists of three pillars, each containing different modules of excellence. Incorporating these pillars helps produce a high-quality, stable, and efficient cloud environment.
The three pillars are:
for Azure Managed Services
HSO Success Plan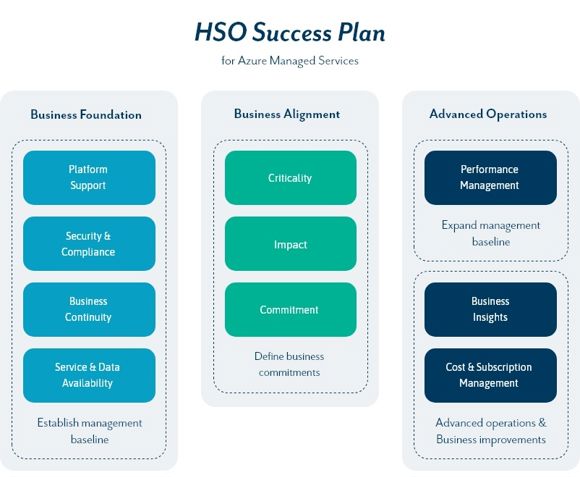 Business Foundation Modules
Platform Support

The Platform Support module provides the technical foundation for all other HSO Service modules. By ensuring all of the Azure workloads conform to the Microsoft Well-Architected framework, we provide a set of services that cover the full spectrum of Business applications and Azure capabilities.

Security & Compliance

The module Security & Compliance provides everything that an organisation needs in terms of Cloud Security & Compliance – from GDPR and ISO 27001 all the way to Security Incident Response.

Business Continuity

With the module Business Continuity, we protect your business continuity by providing services for corrective- and preventive management.

Service & Data Availability

The Service and Data Availability module ensures business continuity and disaster recovery for critical applications, systems and data in support of predefined recovery time objectives (RTOs) and recovery point objectives (RPOs).
Identify criticality

Identify the criticality for each business workload is the first step toward establishing mutual commitments to Microsoft Azure cloud management. Our approach is to proceed further by mapping workloads to business processes and ranking their criticality to focus investments.

Understanding the impact

Assume the best and prepare for the worst. Apart from assuming all good situations, it is always important to understand the impact of potential outages to aid in evaluating the return on investment for Microsoft Azure cloud management.

Business commitment

Defining business commitment is an exercise in balancing priorities. By establishing business commitments, we want to develop true partnerships by creating and documenting agreements with the business.
Performance Management

The Performance Management module is designed to ensure that Dynamics Business Applications and computing workloads achieve optimal results on the Azure platform and provide the best customer experience. HSO establishes application and system performance baselines, automated monitoring guardrails, as well as proactive alerting and resolution of performance incidents.

Business Insights

The module Business Insights combines business integration, data and analysis to find meaning in and increase understanding of a situation, resulting in better outcomes for your business. This module provides more than a low-level understanding of an issue, giving your business deeper insight into major mechanics related to your particular business process. It provides insights-based op predictive scenarios.

Cost & Subscription Management

The module Cost & Subscription Management ensures optimizing and controlling the Microsoft Azure Cloud consumption. The cost and performance of cloud resources also involve understanding the interplay of cloud consumption and business processes while continuously monitoring the full stack.
Read more
Offerings and knowledge around Azure Services and Expertise
Get in touch
Our Azure experts are ready to help.