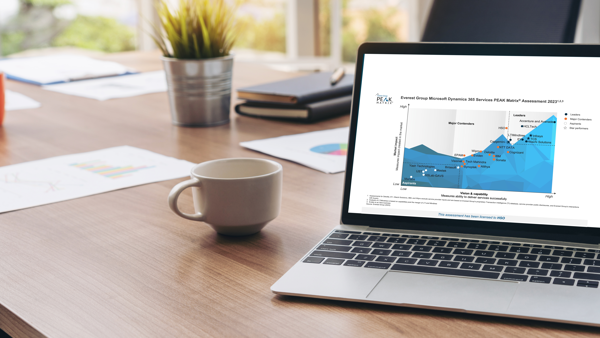 Everest Group Names HSO as a Major Contender in the Microsoft D365 Services PEAK Matrix® Assessment 2023
HSO positioned as the strongest contender among the top global Microsoft Dynamics D365 Service providers worldwide.
Everest Group's Microsoft Dynamics D365 PEAK Matrix® report provides an independent and objective, data-driven assessment of service and technology providers, based on their overall capability and market impact across various global markets. This specific assessment analyzes the leading worldwide Microsoft D365 service providers in a number of important categories, ultimately measuring the market impact, vision and capability of a named service provider, categorizing them as a Leader, Major Contender or Aspirant. HSO has been positioned as a Major Contender in the Everest Group Microsoft Dynamics 365 Services PEAK Matrix® Assessment 2023.
This achievement by HSO builds further on additional recognition from Microsoft earlier in the year as becoming one of the few Microsoft Partners to achieve MS Cloud status after gaining the full suite of six new Solution Partner designations.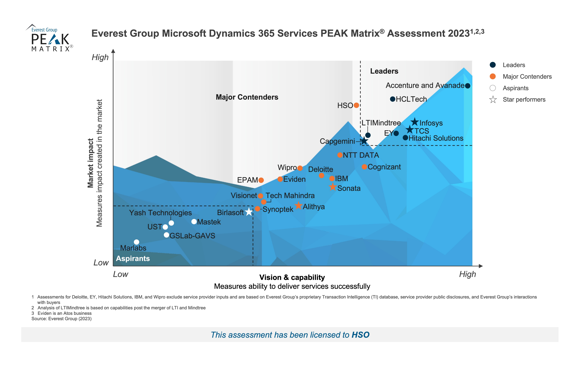 "HSO has made investments in developing a comprehensive suite of horizontal IP tools/solutions focused on implementation and managed services. Clients appreciate its proactiveness, technical expertise, and its depth of partnership with Microsoft. Collectively, these capabilities have helped position HSO as a Major Contender on Everest Group's Microsoft Dynamics 365 Services PEAK Matrix® Assessment 2023."

HSO strengths identified in the report include:
HSO has showcased a strong understanding and deep capabilities in the finance module and is suitable for clients seeking Dynamics services on this module
Enterprises acknowledge its proactiveness, technical expertise, and partnership with Microsoft as its key strength areas.
HSO has good domain expertise in industries such as manufacturing, retail, and CPG, and financial services industries to aid clients in their Microsoft Dynamics journey
HSO has a good focus on Dynamics-specific implementation services; it can be a suitable fit for clients seeking implementation-heavy engagements
HSO has developed a comprehensive suite of horizontal IP tools/solutions focused on implementation and managed services for its Dynamics clients
"It's been a great year for HSO being recognized as a Major Contender by the Everest Group in their 2023 PEAK Matrix® Assessment for Microsoft D365 Services alongside gaining the full suite of Microsoft Solution Partner designations. These achievements position HSO as a go to partner to help customers leverage the full power of Microsoft technology, including next-generation AI and Microsoft D365 Copilot capabilities."
Read more
Other News and Insights