Crew Clothing vertraut auf
 HSO und Microsoft Dynamics AX
Die Crew Clothing Company hat in HSOs Microsoft Dynamics AX für den Einzelhandel investiert, um nicht nur seine ehrgeizigen strategischen Wachstumspläne zu unterstützen, sondern auch ein innovatives Kundenerlebnis zu ermöglichen und die Effizienz sowohl im operativen Bereich als auch im Bestandsmanagement zu verbessern.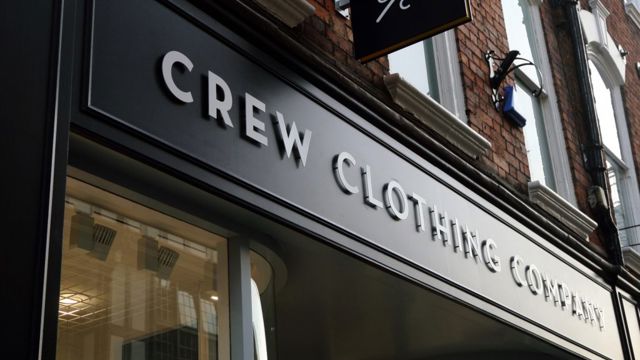 Crew Clothing Company ist eine britische Fashion-Kette, spezialisiert auf luxuriöse Freizeitkleidung für Männer, Frauen und Kinder. 1995 wurde das erste Geschäft an der New King's Road in London eröffnet und der erste handgezeichnete Katalog wurde an 2.000 Kunden verschickt. Heute, über 20 Jahre später, gibt es 76 Läden im ganzen Vereinigten Königreich. Jedes Jahr werden mehr als 3,2 Millionen Kataloge verschickt und über 400 Leute arbeiten bei Crew.
Crew Clothing Video Case Study
Crew Clothing entschied sich für HSO und Microsoft Dynamics AX for Retail aufgrund der Kombination aus funktionaler Eignung, Kenntnis des Einzelhandels und HSOs umfassender Expertise in der Lösung.
Herausforderungen für das Unternehmen
Die Crew zog Bilanz: Das Unternehmen wuchs schnell und die Sichtbarkeit der Marke stieg, sowohl in den Geschäften als auch im Internet. Das Managementteam erkannte, dass Investitionen in die IT erforderlich sind, um das Unternehmen auf ein höheres Niveau zu bringen. CFO Justin Hampshire erklärt: "Unsere Firma war schnell gewachsen und Skalierbarkeit daher ein wichtiger Punkt."
Für die Crew war wichtig, dass die ERP-Lösung in drei Hauptbereichen verwendet werden kann:
Das bestehende System bot unzureichende Einblicke in den Gesamtbestand. Eine akkurate und detailliertere Übersicht wurde benötigt.
Mit der Zunahme der Verkäufe über das Internet nahmen auch Probleme im Zusammenhang mit Rückgabe, Umtausch oder Bezahlung zu. Die Crew wollte ein einziges System, das alle Kundenanfragen unabhängig von der Methode des Kunden abwickeln konnte.
Management-Informationen:
Zudem gab es Bedarf nach einem besseren und schneller verfügbaren Management-Tool. Der Einzelhandelssektor ist eine dynamische Branche: das richtige Produkt am richtigen Ort zum richtigen Preis anzubieten, ist entscheidend für den Erfolg.
"Multi-Channel Erfahrung im Einzelhandel, erfolgreiche Kundenprojekte und eine glaubwürdige Technologelösung waren Voraussetzung für eine Zusammenarbeit."
Der Weg zur
 neuen Softwarelösung
Erste Phase: Lagerverwaltung

Nachdem das Unternehmen hohen Wachstum sowohl online als offline verzeichnen konnte, wuchs der Bedarf nach einer modernen IT immer mehr. "Die erste Phase der Implementierung konzentrierte sich auf die Verwaltung der Kundenerfahrung und Zentralisierung der Lagerverwaltung durch ein skalierbares System", sagt Justin Hampshire.

Zweite Phase: Kundenzufriedenheit

In der zweiten Phase wurde die Verwaltung des Customer Managements erheblich verbessert. "Wir können jetzt spezielle Angebote an Kunden anpassen und ihnen relevante und angemessene Informationen bereitstellen. Das fördert die Kundenloyalität und ermöglicht es uns, die Erwartungen unserer Kunden zu übertreffen.

Dritte Phase: Management Information

Die dritte Phase des Projekts konzentriert sich hauptsächlich auf die E-Commerce-Plattform. Kundenloyalität und Online-Verkäufe sind ein großer Teil von Crew's Erfolgsgeschichte. Die Marke ist mit Sportveranstaltungen wie The Whitbrea, Round the World Race, das England Polo Team und Masters Tennis in der Albert Hall verbunden.

Das Fazit: Zusammenarbeit mit HSO

Hampshire schließt ab: "Die Zusammenarbeit mit HSO war eine sehr aufregend Reise. Das Geschäft hat in der kurzen Zeit bedeutende Gewinne gemacht. Das Management-Team war erfreut über die Umsetzung von PoS mit integrierten Chip- und Pin-Funktionen. Das interne Team und das Management-Team sind von der Dynamics AX-Lösung und HSO bis heute begeistert."