MPS Systems helps customers get more value from machines
MPS Systems develops new business model and service by using data and IoT to get maximum value from printing machines.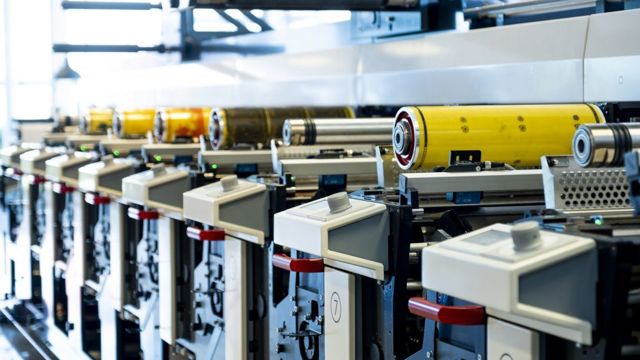 Machine manufacturer MPS Systems designs and builds printing presses for labels and the flexible packaging industry. The main mission of MPS is to enable machine operators to deliver the best quality and productivity. This is only possible if the machines are used to their full potential. But how do you make sure your customer gets all the value out of their precious machine? Data is the key to this.
MPS: Market challenges demand new services
Several years ago, MPS began its 'data journey'. The company started looking for new ways of providing services that would allow it to add more value for customers and thus ensure long-term relationships and continuity. Atze Bosma is CEO at MPS Systems and driver of this strategy.  "MPS operates in a market that is not particularly large but is global, with a small number of competitors," says Atze.
"In terms of price and quality, we are pretty much the Rolls Royce or the Porsche of our market. But we have been seeing price pressure for some time, partly because the technology from different manufacturers is bunching up closer together. If we want to escape this, we need to open up new markets or consider other forms of service provision. And that's where we saw a huge opportunity."
MPS aims to help customers perform at a higher level
"We had suspected for some time that our customers were not using their machines optimally and were not very efficient," says Atze. "And that is actually rather weird. After all, we are selling an expensive machine that needs to run a lot of volume, with a lot of changeovers. If this is not the case, the customer does not get the benefit, efficiency and quality and therefore the full value potential out of it. That is where we believe there is an opportunity: if we help our client perform at a higher level, we can stand out in the market.
We expect that our customers will also benefit greatly from this. Many of these companies currently have a relatively stable and comfortable market position. But risks such as price pressure and consolidation are also at play in their market. Plus the demand for sustainable products, such as biodegradable ones, biodegradable inks and plastics is increasing. Can they meet this? In this assignment, we would like to help them."
Read more
Customer stories on Data & AI
"It is very nice to work with one party that also communicates well among themselves."
Pioneering with data
To test the suspicion about the inefficient use of the machines, the company decided to install measuring equipment, using it to gather as much information as possible about the use of the machines. Rob Nijland is Manager ICT and Software Engineering at MSP Systems and is responsible for IT and controls engineering. In other words, the department that manages and develops the hardware and software for the machines. Rob has been closely involved in data and services developments from the start.
"For our customers to be more efficient and productive, we needed to learn more about how to use the machines," explains Rob. "We started very pragmatically, equipping our machine with a device to retrieve all kinds of usage data. So how is the machine operated, how often does the valve open, when is the roller replaced and so on.
That way, we collected a lot of event-based data, which we then used to start performing our own analysis. We set up a development environment and started creating analyses and the first visualizations." Since 1 January 2020, every machine has had a Microsoft IoT edge computer, allowing MPS to substantially grow the database of relevant data.
"The suspicion that each operator operates the machine differently was indeed confirmed by the data," says Atze. "Setting up the machine depends on the operator and each operator does it differently. That has a lot of impact on production, possible waste, production time and so on."
MPS takes the next step in IoT applications
"We found out that very are few companies left that still think and work this way," explains Atze. "So we had to work on our own and look for expertise to test our hypotheses. We expected there to be companies that were already a lot further along. But that turned out not to be the case!''
We see that the IoT technology being applied is still very much focused on 'high volume and low intelligence' and particularly focused on detecting anomalies in a digital process. That's fine if you want to optimize maintenance and get ahead of breakdowns. So what we are doing now is still relatively new in the IoT world and that is mainly down to the human component. This provides a lot of logic in the models, think 'if... then'.... In discussions with the client, we try to test these patterns with real-world expertise. But this is a lot harder than making a report based on simple metrics and signals."
"Moreover, all the information we collect can drive further R&D developments," says Rob. "Because we see that the interface could be better, for example. So in all sorts of areas, there is a lot of value in the data."
"What we liked about the cooperation is that HSO has several disciplines in-house and thus serves a broad playing field, including in terms of technology."
HSO collaboration for stable data architecture and continuous data flow
"We were well advanced, but ran into some bottlenecks in the data structure," says Rob. "That's when we turned to HSO. We first did a review: what do we have now, where do we want to go and what is needed to solve the gaps we have? We then set up a new architecture in Microsoft Azure cloud. We now equip every machine with Azure Device Agent. The result is a continuous data flow - the whole flow runs, based on a stable architecture."
"What we liked about the cooperation is that HSO has several disciplines in house and therefore serves a broad playing field, also in terms of technology. We had an expert on data access on board, then someone who knew all about Databricks, our analytics tool. And so, for example, we are now working on a portal and the power apps consultants are hard at work. It's very nice that there are short lines of communication, despite HSO being quite a large organization. This helps to shift gears quickly and get things done fast. This broad playing field and expertise across disciplines is definitely a positive. It is very nice to work with one party that also communicates well among themselves."
"Even in the early stages, we experienced the team's focus as very pleasant," says Atze. "A lot came out in a short time. However, we do think it is important as MPS to also look beyond the boundaries of the Microsoft stack. If other technology works better for our applications then we are also open to that."
Looking to the future
How does MPS view the (near) future? And what does the company expect to offer customers soon? "We want to bring more than just the production part into the picture as soon as possible," says Atze. "It seems logical to move on to data on production line speed, time and meters. We know all about that now. But we want to offer more than just productivity insights and move towards a holistic approach. This could include connections to the ERP system, controlling the line's energy management and looking at the quality rather than quantity of production. But it can also include improving scheduling and personally addressing or coaching the operator, so that we end up helping them do the job better."
MPS: this is how to get past the idea and POC phase
Many companies looking for new business models and new forms of service delivery are struggling with this shift. How do you get past the idea phase? "From the beginning, we knew very well what we wanted and that is crucial," explains Atze. "You need to make sure you have a good understanding of your market and make sure you are very clear on what your goal is. Because you need that to keep going, even when the going gets tough."
"You can chew the business case to pieces, but you also have to dare to take the step at some point," says Rob. "Also, you should not want to make your business case completely watertight. After all, you don't know in advance exactly where you will end up. However, the direction must be clear so that you can take the organization with you."
"We have already invested quite a lot in data-related projects," says Atze. "But our shareholders, like us, have no doubt that this is the future. However, it is important to include the rest of the organization in this culture shift as well. After all, developing, marketing and selling data is different from building and selling a machine. All 100 staff go through the proverbial car wash here, to make everyone data-minded. Curiosity is now an absolute core value for us. After all, only when you are curious do you start looking for information, and can data become your driver."