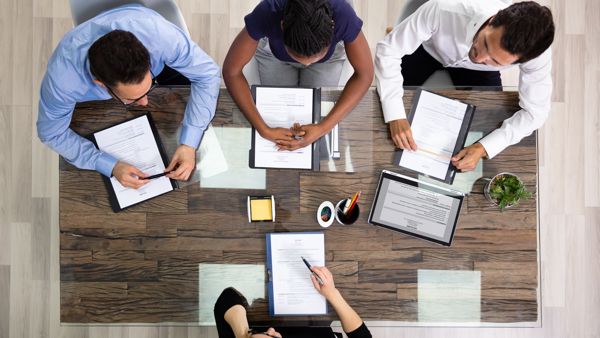 Challenge Accepted: Modernize Investor Relations for a Global Private Equity Firm

Matthew Case
A digital transformation story, told by the technology expert who drove it
HSO's smart, technical consultants' main goal is to deliver client solutions that make it easier and more pleasant to do business. They possess energy and enthusiasm to take on technical, business challenges that metamorphize the customers' organization.
In this Challenge Accepted blog post and interview, you'll hear directly from an HSO functional solution architect, Matthew Case, who shares his story of a business challenge accepted and conquered.
"I care about people. Really. If I ever decided to tattoo something on my chest, it might be that. When I help design or build a software system for somebody, I'm thinking about the end users, their customers, and the management."
Matthew Case, Functional Solution Architect, talks about modernizing investor relations
For a global private equity firm with $70Bn AUM using Microsoft Dynamics 365 Service, the Power Platform and Microsoft Teams.
Every once in a while, you get a project where you realize, wow, we're going to change their lives with this one
The project I'm talking about here was one of those. While there were very antiquated processes, those processes were indeed working. However, there were a lot of manual steps involved. Those steps were not going to translate well to modern technology as we proceeded to automate and improve those processes.
As we went through the discovery process, we realized this was going to be one of those life-changing projects.
It feels good to deliver that kind of project because you truly know you're doing more than a "lift and shift"—or a linear move. It's going to be transformational. It's going to make their processes better and their reporting more accurate. It's going to give time back to people who are working hard and smart.
That's when it's exciting—when you're on a project that helps a customer come into the modern age
Everybody knows what technology can do because everybody has a smartphone nowadays. So, it's understandable that businesses want tools that are as easy to use as a smartphone. While that's not exactly "easy," it certainly is possible. When you can do that, you kick off a true transformation.
The Business Challenge: Investor Relations using antiquated, manual processes
With $70B+ in assets across credit, private equity, and real estate strategies, this financial services firm has clearly been doing things right. But, there was still room for improvement. As I mentioned above, while their processes were manual and antiquated, those processes were getting the job done.
The question was, could they do an even better job with the right technology? Surely, there were improvements that could be made across the firm. Changes that would improve the client experience and positively impact the bottom line.
Investor Relations using Excel spreadsheets
One area of particular concern was investor relations. Manual processes only recorded requests—or requests from custodians on behalf of investors—which were tracked in an Excel spreadsheet. With multiple divisions, not everyone in the firm would be speaking directly to the custodian or investor. So, investor relations depended on this spreadsheet to track those communications and get them to the right places within the organization.
It might seem hard to believe that a firm with billions in assets under management would be using Excel. Any Excel user will tell you that it's very dependable and gets the job done. The issue is that it was clearly not the most efficient way to do the job. There was a lot of potential to simply make things better.
To me, this was akin to introducing someone from the stone age to an airplane. We had an opportunity to blow their minds. In my mind, one of the most exciting things about this project was the opportunity to transform the person who manages the spreadsheet into a data steward—complete with the tools she needs to support her position—because, in essence, she was already managing billions of dollars' worth of requests. She just needed better tools that would improve the process.
Challenge Accepted: Dynamics 365 Service (Case Management) integrated with Microsoft Teams
The firm had a sophisticated data structure in place, so the pieces were already in place to get to a solution; we just needed to help link them all together. This was important because we could not assume they actually knew what they wanted.
Because they were making a huge transformational leap from Excel, we could not ask them about metrics and what they wanted on their dashboard. That would be like asking a person who has never seen an airplane if they want a first-class seat.
We had to make sure our consultant hats were on to guide them through the process, but they are very savvy when it comes to their business. They had seen some of what Microsoft Dynamics and the Microsoft Power Platform can do, so it didn't take long for them to run with it.
The business outcome: adoption and ownership
Reporting transparency and data accessibility were big gains from this project. These improvements translated into the investor relations team gaining a mastery of data; enabling them to continuously raise the bar of white glove service they deliver to their super-investors.
But the story doesn't end there. By being so engaged in the transformation process, the client's team became more and more involved in the overall vision for the project.
After seeing what could be done with Microsoft tools, they decided that other departments could have more involvement. This was something they had never considered before, but realized it would be very advantageous. Their team is brainstorming the creation of a self-service investor portal to provide even faster service to their clients. In short, they realize from one, specific project that the possibilities are virtually limitless.
RESOURCES FOR PRIVATE EQUITY & INVESTMENT FIRMS
Learn more about our experience in the Private Equity industry