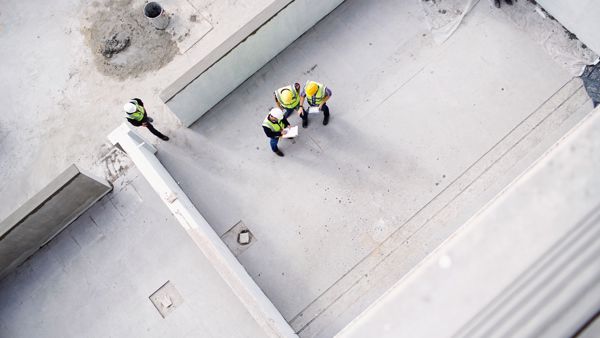 5 Reasons Leading AEC Firms Choose aec360
Learn what a comprehensive industry-specific suite AND a best-in-class cloud platform can mean for your firm
aec360 is designed specifically for Architecture, Engineering, and Construction (AEC) firms and their staff to help win business, deliver excellent projects, and optimize revenue. With aec360, you get a comprehensive, industry-specific suite AND a best-in-class cloud platform to manage your Processes, Insights, Productivity, Relationships, and Tools.
We believe aec360 offers clear advantages over other industry offerings, not only in features and functions, but also in reliability, security, and ease of use. In this blog, we review the benefits of aec360 and invite you to compare them with other solutions you might be considering.
The Cloud, Part 1: Cost-effectiveness

Let's start with what is arguably the most advantageous feature of aec360: it is cloud based. Built on Microsoft Dynamics 365 and hosted on Azure makes it cost effective; you only pay for the resources you need and throttle up or down as needed. You save money on hardware, computer room, and staff because all of it is in the hands of the Microsoft Azure professionals. Maintenance is handled by Microsoft, freeing your IT staff for work that furthers your firm's goals.

The Cloud, Part 2: Reliability

Being a cloud-based solution continues to deliver—this time around reliability. Those same Azure professionals also specialize in providing a secure, 24/7/365 cloud environment. Microsoft Azure offers one of the best Service Level Agreements (SLA) in the industry, with 99.95% uptime plus failover and backup capabilities.

The Cloud, Part 3: Security

And finally, the cloud offers security. Microsoft Azure is a robust and secure platform, capable of supporting industry-critical and secure government transactions. Azure maintains a state-of-the-art secure facility with modern intrusion and malware detection and continuous monitoring of their systems and must meet strict security requirements and regulations. In many cases, their security is better than even most Fortune 500 can provide on their private networks.

Features and Functions

Microsoft has invested nearly $20 billion in their Microsoft Azure and Dynamics 365 products and tools. aec360 builds on that investment with targeted, industry-specific features that reflect the requests we get from the AEC professionals who use our software. Gain greater visibility across your firm, including project profitability, financial performance, asset management and more. aec360 integrates with Power BI and LinkedIn to offer greater insights into your business and your relationships with your prospects, your clients, and their businesses.

Ease of use

aec360 is a productivity solution that provides collaboration across the firm with Teams, Outlook integration, automation, artificial intelligence (AI) and machine learning (ML), and more. With aec360, users can access the application from anywhere at any time, from any device using standard web browsers. This means field observations can be entered directly from the jobsite rather than recording the information by hand and returning to the office to enter the data manually hours after the fact—a process prone to errors and lapses of memory.
The hidden cost of staying where you are
The question that remains is, why make a change at all? Because there is cost associated with fear or simply being "ok" with the status quo. If there are long term costs to your current solution, if the data is you're getting is inaccurate, if your users are unwilling to use the tool, if your timesheets are inaccurate and costing the firm money, if you lose quality and experienced talent because you make their job harder and not easier, then your current solution is actually costing you money.
An investment aec360 can maximize the growth and stability of your firm. As one of aec360 customer said, "Microsoft Dynamics 365 and aec360 stood out from the crowd, offering not only a best-in-class cloud technology platform, but a business solution that was purpose built for our industry."
You can't expect software to do everything; technology only takes you so far. There is still the human element, but aec360 makes it easy to take ownership of your data and make the most effective use of it to make impactful changes that deliver real value.
Read more
Knowledge and expertise for the AEC industry