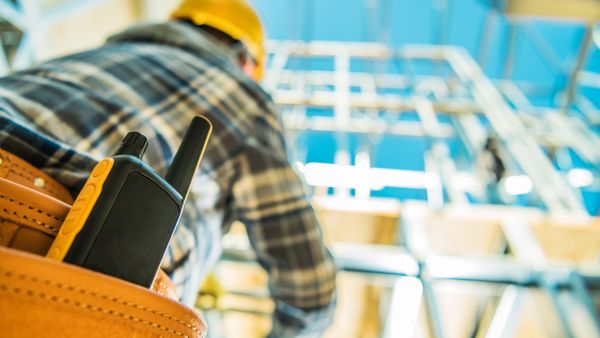 How AEC Firms Can Optimize CRM to Benefit from Infrastructure Bill
aec360 helps AEC firms overcome CRM challenges and win more opportunities
The Infrastructure Investment and Jobs Act became law in November 2021. This infrastructure bill will allocate $1.2 trillion to fund infrastructure projects across the United States, including improvements to roadways and bridges in addition to water, energy, and broadband capabilities. As new projects are defined and funded, those AEC firms ready to deliver stand to benefit significantly from these increased infrastructure investments. However, to take advantage of this influx of new capital, AEC firms must first make sure their Customer Relationship Management (CRM) system is capable of helping them win these projects.
To make the most out of the immense funding opportunity this bill provides the AEC industry, firms will need to act quickly and position themselves in front of the right people. Managing these relationships from the beginning is an essential step to success. Your CRM system must be capable of giving you the actionable information you need to make critical decisions on which potential projects to pursue as well as your optimal next steps.

Below, we outline several CRM issues that can create challenges for AEC firms, how these issues can affect a firm's ability to take advantage of provisions in the infrastructure bill, and how aec360 can help.
Many AEC firms struggle with inadequacies in the CRM system in three fundamental areas: relationship management, efficiency, and decision making.
Relationship Management: Breaking down the silos
Relationships drive sales, particularly in government contracts, so firms must make the right connections to the right decision-makers. Making these key connections to the project stakeholders early in the sales process increases your chances for success across multiple opportunities.
Many firms have already made the right connections to key stakeholders and decision-makers but fail to leverage them because the information is siloed among various departments and individuals.
Using Microsoft Dynamics 365 with aec360's CRM functionality helps break down these silos. The Enterprise Relationship Management (ERM) application in aec360 enables you to identify existing relationships that you can use to create new ones.
ERM shows relationships the prospect has with you, your co-workers, and any external business contacts of your firm. The screenshot above uses a co-worker's contact with the prospect to calculate a score of the strength of the relationship. ERM also leverages LinkedIn Sales Navigator to show optimal connections to individuals outside your organization.
Efficiency: Using automation and machine learning to your advantage
Manually updating client data and building complex queries slows down productivity and discourages wider adoption by the staff.
Microsoft Dynamics 365 and aec360's CRM uses machine learning to help automate tasks and reduce user administration of the system, removing the time-consuming aspects of the process.
aec360 CRM anticipates when a user would likely perform a task. As the software identifies increased activities with a contact, in the event the contact is not in the database, the software offers to create a new record for that contact. If a contact moves to a different address or company, the software will identify the change and offer to update the contact record.
In the screenshot below, the software asks if the user wants the software to create or modify contacts and provides the details needed to verify its accuracy.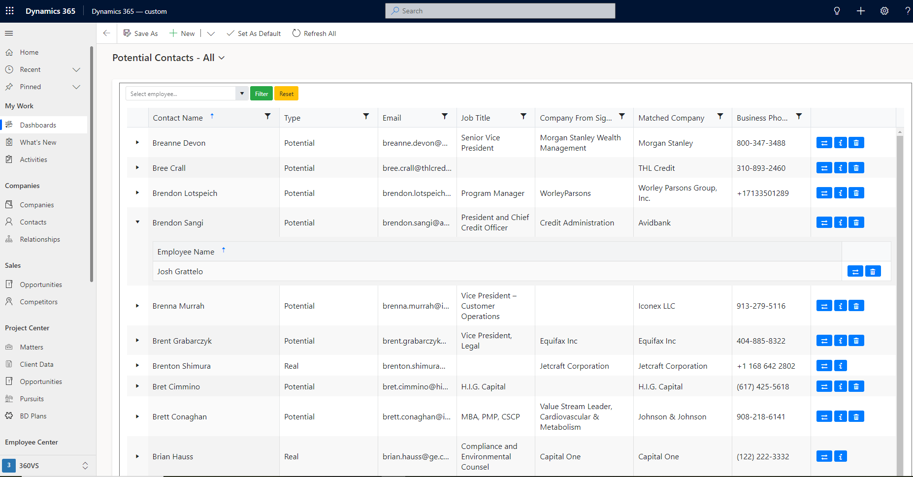 Decision Making: Targeted and timely information you need when you need it
Old or inaccurate data CRM entries, complex manual processes, and poor reporting tools all combine to make many CRM systems yield ineffective results.
Targeted and timely decisions, such as which new regions or market sectors to enter or which opportunity yields the greatest return, depend on the speed and accuracy of information from your CRM software.
aec360 has native integration with Microsoft and Power BI, delivering dashboards that deliver real-time, actionable information for critical business decisions.
aec360 CRM's Power BI dashboard provides mission-critical information that is accurate and up-to-date. Dashboards convey information in a clear, visual report that is easily consumed and used by key decision makers.
Read more
On relationship management for AEC firms
Maximize the benefits of your CRM system
The new infrastructure bill has the potential to completely change the AEC landscape. You need a CRM system that can your firm take advantage of the opportunities that are coming. For example:
Can your CRM support the complex Relationship Management you will need?
Does your CRM make your team more efficient?
Are you able to get the information you need quickly and accurately to make critical business decisions?
Get a 360° view of your AEC firm